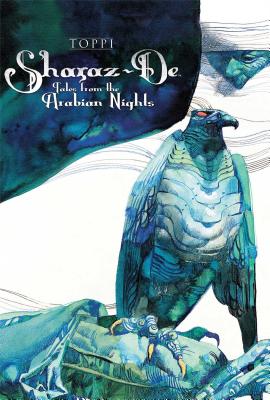 Sharaz-de: Tales from the Arabian Nights (Hardcover)
Tales from the Arabian Nights
Archaia, 9781936393480, 224pp.
Publication Date: January 1, 2013
Description
A set of tales inspired by the Arabian Nights by European comics master Sergio Toppi, exploring a barbaric society where the supernatural is the only remedy to injustice, as Sharaz-de, captive to a cruel and despotic king, must each night spin tales to entertain her master and save her head from the executioner. Featuring tales filled with evil spirits, treasures, risk, and danger, but ever at their center the passions of gods and men.
About the Author
Sergio Toppi was born in 1932 in Milan, Italy. He began his career in illustration working in advertising and working for the renowned Italian publisher Utet. His comics and graphic novel work spans decades, including work for such comics series as Linus, Corto Maltese, Un uomo un'avventuraand Il Giornalino in Italy and l'Histoire de France en bandes dessinees andLa Decouverte du Monde published by Larrousse in France. In recent years he has been published exclusively in Europe by the French publisherEditions Mosquito, including The Collector, winner of the Soleil D'Or prize for Best Series at the Solies-Ville Festival. His art has been displayed in the "Masters of the European Comic Book" exhibit at the Bibliotheque Nationalein Paris and in the Museum of Comic Art in Angouleme.
Advertisement