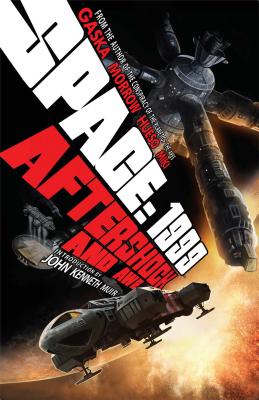 Space: 1999: Aftershock and Awe (Hardcover)
1999: Aftershock and Awe
Archaia Entertainment, 9781936393886, 160pp.
Publication Date: December 25, 2012
* Individual store prices may vary.
or
Not Currently Available for Direct Purchase
Description
The sci-fi classic series returns September 13th: 1999 -- An atomic accident causes the moon to be blown out of orbit and hurled into the unknown, the survivors of the lunar base stationed there launched towards their destiny across the stars. But what of the cataclysm and wanton destruction caused to the Earth in its wake? Based on the classic science fiction television series Space: 1999, and set in the continuity of the original series, Aftershock and Awe steals a glimpse at an alternate history of mankind, and jump-starts humanity's eventual destiny far out in space.
About the Author
'Drew' Gaska is an author, producer and art director. For over a decade he has served as a freelance consultant for Rockstar Games on such hit titles as Grand Theft Auto, Red Dead Redemption, the Midnight Club series, and all other major releases. He is the founder and creative director of BLAM! Ventures, a guerrilla transmedia studio that produces print and digital media for the comic book and science fiction industry.
Advertisement