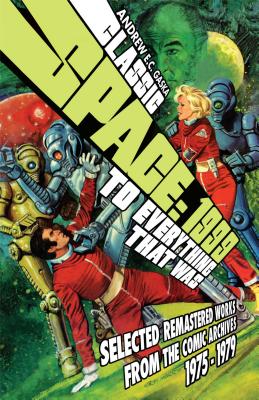 Classic Space: 1999 - To Everything That Was: Selected Remastered Works (Paperback)
1999 - To Everything That Was: Selected Remastered Works
Boom Entertainment, 9781936393954, 304pp.
Publication Date: September 17, 2013
* Individual store prices may vary.
or
Not Currently Available for Direct Purchase
Description
The sci-fi classic series continues September 13th: 1999 -- when an atomic accident causes the moon to be blown out of orbit and hurled into the unknown, the survivors of the lunar base stationed there launch towards their destiny -- and adventures -- across the stars Set in the continuity of the original series, Classic Space: 1999 -- To Everything That Was fills in the gap between the first and second seasons of the gothic science fiction television series Space: 1999, offering an exciting narrative of events that occurred "behind the scenes." This collection is a celebration of the Space: 1999 comics of yesteryear, reprinting the best of the Charlton Comics series, the British Look-In issues and Annuals, with remastered and unpublished works by comic book legends such as Gray Morrow (Man-Thing, Tarzan, Buck Rogers), John Byrne(X-men, Fantastic Four), Joe Staton (Green Lantern, Superboy), and more. A labor of love, Classic Space: 1999 -- To Everything That Was utilizes over a dozen rare Space: 1999 painted artworks as chapter breaks, and is adorned by a previously unpublished Gray Morrow Space: 1999 cover painting, originally intended for the next issue of the 1977 cancelled Charlton comic series run and only seen print in the late '70s as a puzzle, now beautifully restored.
About the Author
'Drew' Gaska is an author, producer and art director. For over a decade he has served as a freelance consultant for Rockstar Games on such hit titles as Grand Theft Auto, Red Dead Redemption, the Midnight Club series, and all other major releases. He is the founder and creative director of BLAM! Ventures, a guerrilla transmedia studio that produces print and digital media for the comic book and science fiction industry.
Advertisement