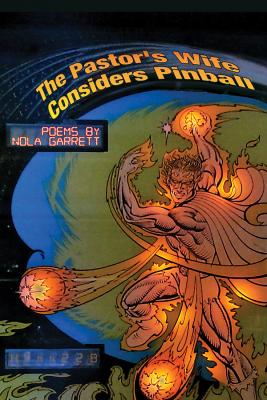 The Pastor's Wife Considers Pinball (Paperback)
Mayapple Press, 9781936419166, 74pp.
Publication Date: March 4, 2013
* Individual store prices may vary.
Description
Poetry. "The Pastor's Wife, the poet's alter or altar ego in Nola Garrett's startling collection, tells her poet-creator 'that Nola's dreams are a troupe / of untrained monkeys.' But Garrett has in fact trained her dreams well, for the persona who 'forces me to write these poems' inspires her to triumphs of craft her pentameters' suppleness, her free verse's tautness, her sonnets' sneakiness. These technical achievements enable her feats of sympathetic imagination, so a sestina, by beginning every end-word with 'y, ' enacts the tugs of longing that plague and delight Garrett's hero. Constantly the Pastor's Wife wrestles with a God she knows so intimately she can list what he carries in his pockets ('a few centuries' change, a napkin sketch of another garden / that never fades, a Zippo lighter..., / ...an elegant key'). THE PASTOR'S WIFE CONSIDERS PINBALL tackles both the sacred and the profane, divine order and worldly chaos, by bringing all Garrett's powers of wit and feeling to the fray." Jay Rogoff.
Praise For The Pastor's Wife Considers Pinball…
The Pastor's Wife, the poet's alter—or altar—ego in Nola Garrett's startling collection, tells her poet-creator "that Nola's dreams are a troupe / of untrained monkeys." But Garrett has in fact trained her dreams well, for the persona who "forces me to write these poems" inspires her to triumphs of craft—her pentameters' suppleness, her free verse's tautness, her sonnets' sneakiness. These technical achievements enable her feats of sympathetic imagination, so a sestina, by beginning every end-word with "y," enacts the tugs of longing that plague and delight Garrett's hero. Constantly the Pastor's Wife wrestles with a God she knows so intimately she can list what he carries in his pockets ("a few centuries' change, a napkin sketch of another garden / that never fades, a Zippo lighter . . , / . . . an elegant key"). The Pastor's Wife Considers Pinball tackles both the sacred and the profane, divine order and worldly chaos, by bringing all Garrett's powers of wit and feeling to the fray. -Jay Rogoff, author of "The Art of Gravity"


The opening poem, "The Pastor's Wife and I," alerts the reader at once to the way the author of this collection divides her focus to acknowledge "the split self," "her feral woman—her woman loitering near the well." Nola Garrett's risky triumph is the way she transcends a potentially chaotic view to achieve the kind of unorthodox order that finally challenges and satisfies—and illuminates.

An unlikely—and yes, chaotic—array of items informs the book from beginning to end: Biblical figures; a great deal of food; the Eucharist; Ted Hughes; a neighbor's cows demonstrating precisely how "shit happens," in a strangely lyrical scene that flirts with blasphemy; angels updated to the present; the belongings of the dead on sale at Goodwill; Yahweh naked in the shower or ordering his "usual liverwurst on rye from Eve's diner."

What the pastor's wife really considers in this engrossing examination of a life is every option she perceives. Shall it be a series of games with no appeal, no guarantee of fairness? Games in which, by the way, God is also a player. Or shall it be acceptance of the limited control she has over her choices, right down to Molly Bloom's "Yes! Yes!" even to the expectation of the inevitable "transparency" we all achieve with death? Read the poems and "consider" for yourself. - Rhina P. Espaillat, author of "Where Horizons Go"
or
Not Currently Available for Direct Purchase