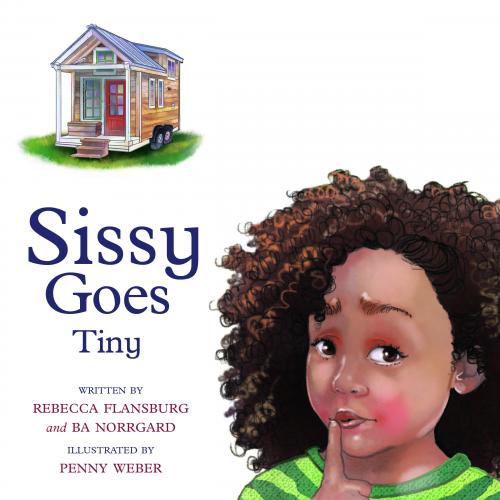 Sissy Goes Tiny
Hardcover

* Individual store prices may vary.
Description
Eight-year-old Sissy loves her life. She loves her toys, her Big house, and her Big backyard. But when her parents decide they are going to "live Tiny," the thought of parting with some of her belongings and living in a Little house on wheels doesn't sound so good. But as her family's new adventure unfolds, Sissy begins to understand that "stuff is just stuff" and living in a Tiny House is filled with the possibility of Big adventures!
Praise For Sissy Goes Tiny…
"In a time where folks are encouraged to buy more, have more, and be more, Sissy Goes Tiny captures the idea: we can be happy with less. Many people feel "less than" when they have to change homes, or feel they are otherwise losing 'the big Oak trees in the yard.' But we can learn from change… it can be good for a thousand reasons. Cheers to the authors. This is wonderful. Sissy Goes Tiny teaches us that HOME is bigger than space and bigger than the people who live there; HOME is where you love with all your heart, whatever shape HOME takes, whatever size… where you can be YOU with your big juicy heart, that is home." Dee Williams, Tiny House Living thought leader and CEO of PadTinyHouses.com
Audrey Press, 9781936426225, 43pp.
Publication Date: August 13, 2019
About the Author
Rebecca "Becky" Flansburg is an author, freelance writer, and blogger from Minnesota who writes about parenthood topics and being a mompreneur. Her two non-fiction books on working from home, FREElance FREEdom: Creating the Work-From-Home Life You Crave and Mom Bossing: The Freedom to Create the Business You Love, are available in both physical and e-book form. Her children's book that she co-authored with B.A. Norrgard, Sissy Goes Tiny, will be released in late July of 2019. Becky is mom to two humans and critter mom to way too many pets.

In 2012, bucking societal exceptions and following her inner guidance, B.A. (Beth Ann) Norrgard shed her paralegal costume after 26 years in a downtown high rise and hand-built her tiny house. She is a passionate advocate for others following their dreams and letting go of societal conditioning, and being free to live a larger life in a smaller space. BA is a doer. She has traveled over 14,000 miles with her house and writes about her minimalist, vegan life on her website.
or
Not Currently Available for Direct Purchase