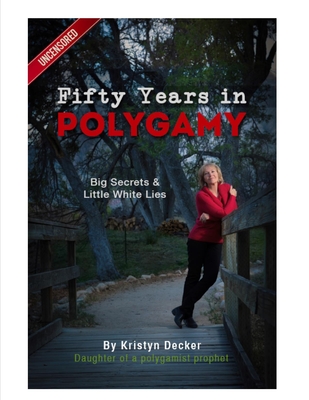 Fifty Years in Polygamy (Paperback)
Big Secrets and Little White Lies
Synergy Books Publishing, 9781936434527, 468pp.
Publication Date: December 25, 2013
* Individual store prices may vary.
Description
Fifty Years in Polygamy is the personal history of Kristyn Decker, the daughter of a polygamist prophet. Within, she reveals a rare, uncensored, firsthand account of the inner workings of a Utah-based polygamist sect whose members today include high-profile reality television stars. Her gripping narrative describes the rampant anguish and abuse behind the happy faces that polygamist women present in public. Fifty Years in Polygamy is Kristyn's inspiring journey; Kristyn challenges the common misconception that polygamy is simply a harmless lifestyle choice. "For many, it is like modern-day slavery," she says.
About the Author
With five kids still at home, Kristyn Decker began taking college courses and working as an assistant teacher in the Head Start program. After earning an associate s degree, she was a lead teacher for four years. Then Kristyn taught child development classes for Children First and volunteered with several projects relating to quality Child Care. In 2002, she received a bachelor s degree in elementary education and early childhood development from Southern Utah University. She ended her nearly thirty-three-year marriage in 2002. Seven years later, Kristyn married LeRoy Decker. She founded the Sound Choices Coalition in June 2012 after publishing her first book, Fifty Years in Polygamy: Big Secrets and Little White Lies. Kristyn spends most of her days volunteering with the Sound Choices Coalition and other organizations, in her quest to end human-rights violations due to polygamy and other forms of patriarchal abuse.Since the publication of her first book, Kristyn has been a guest on many television and radio shows and stations across the country, including but not limited to The Today Show; CNN Weekend News; Good Morning, Arizona; NPR Community Voices; Jay Lawrence; The Fawn Rigan Show (WCCO Minneapolis); KTAR Talk Radio; and KSL AM News. Kristyn also enjoys speaking at book clubs, churches, and libraries.To learn more about Kristyn and her books, please visit www.kristyndecker.com. She loves to hear from her readers and may be contacted at kristyndeckerbooks@gmail.com. For information about the Sound Choices Coalition, visit www.facebook.com/SoundChoicesCoalition, or email Kristyn at soundchoicescoalition@gmail.com. Listen to her radio show, Polygamy Uncensored, each Wednesday at 10:00 AM Mountain Standard Time at www.blogtalkradio.com. Archived shows are available at www.kristyn.srbroadcasting.com."