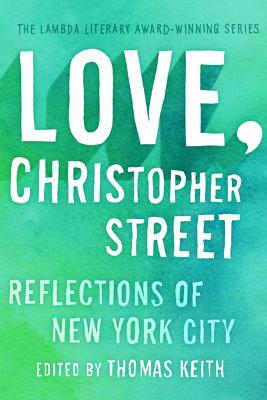 Love, Christopher Street: Reflections of New York City (Paperback)
Reflections of New York City
Vantage Point, 9781936467341, 336pp.
Publication Date: June 1, 2012
* Individual store prices may vary.
or
Not Currently Available for Direct Purchase
Description
These twenty-eight original essays by lesbian, gay, bisexual, and transgendered writers include personal stories that span forty years of LGBT life in the Bronx, Brooklyn, Manhattan, Queens, and Staten Island, and together create a queer love letter to New York City. Chapters in this volume range from personal anecdote to memoir, reportage, history, herstory, and daydream, as well as tributes to people, places, and events.The essays: "Silence = Death: The Education of a Comedian" by Bob Smith, "An Old Queen's Tale" by Penny Arcade, "The Isle Of Staten" by Michele Karlsberg, "Finding Jesús on Christopher Street" by Brendan Fay, "Dis-membering Stonewall" by Rev. Irene Monroe, "Before I Begin" by David McConnell, "A Bite of the Big Apple" by Val McDermid, "Irrespective of the Storm" by Mark Ameen, "My Last Big Addiction" by Martin Hyatt, "My Family Tree" by Amos Mac, "The Opera Singer's Pants, and How I Got In Them" by Justine Saracen, "The Sum of Our Parts" by Jewelle Gomez, "The Myths of this Place" by Shaun Levin, "The Voices" by Charlie Vázquez, "As I Stood Frying…" by Fay Jacobs, "Borders, Rivers and Time: Gay Gotham Revisited" by Shawn Syms, "White Angel/Pale Blue Eyes" by Nicky Paraiso, "My Gay New York: A Symphony in Four Acts" by Aaron Hamburger, "The Place I Parked My Car" by G. Winston James, "Bad Boy" by Felice Picano, "Two Near Water—And One Very Quiet" by Thomas Glave, "Goodnight, New York: A Sermon on the Move" by Rabbi Andrea Myers, "Dearly Beloved" by Ocean Vuong, "A 1986 Bronx Story" by Charles Rice-González, "Perry Street Redux" by Christopher Bram, "An Interview with Michael Musto" by Kathleen Warnock, and "Next Year at Sonny's" by Eddie Sarfaty.
About the Author
Thomas Keith has edited over a dozen titles by Tennessee Williams including, "Mister Paradise and Other One-Act Plays," "The Traveling Companion & Other Plays," "The Magic Tower & Other One-Act Plays "as well as Williams's last full-length play, " A House Not Meant to Stand," for which he also wrote the introduction. Keith is the co-author of "The Histories of Gladys "and "The Collector's Guide to Mauchline Ware," the editor of "Robert Burns Selected Poems and Songs "and the anthology "Christmas Poems," the co-editor of "The Selected Letters of Tennessee Williams and James Laughlin, " and has written articles and chapters for "American Theatre Magazine, The Drouth, Studies in Scottish Literature, Fickle Man: Burns in the 21st Century, Tenn at One Hundred, The Tennessee Williams Encyclopedia," and "Robert Burns in North America," among others.
Advertisement