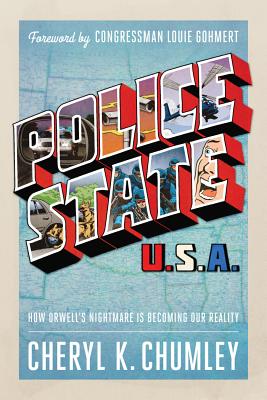 Police State USA
How Orwell's Nightmare is Becoming our Reality
Hardcover

* Individual store prices may vary.
Description
The Founding Fathers wouldn't recognize America today. The God-given freedoms they championed in the Bill of Rights have been chipped away over the years by an ever-intrusive government bent on controlling all aspects of our lives in the name of safety and security. NSA wire-tapping and data collection is Orwellian in its scope. The TSA, BLM, and IRS are all jockeying for control of our lives. Warrantless searches are on the rise and even encouraged in some communities. Free speech, the right to bear arms, private property, and freedom of religion all are under attack. The Constitution has been tossed on the same trash pile as the Bible.
From traffic light cameras to phone tapping, from militarized police forces to targeting specific groups of people, the government is unfettered in its desire to control the American people. Police State USA chronicles how America got to the point of being a de facto police state and what led to an out-of-control government that increasingly ignores the constitution and exploits 9/11 security fears to justify spying on its citizens. Stunning new surveillance technology makes it easier to keep tabs on the people. The acquisition by police departments of major battlefield equipment emboldens officials to strong-arm those they should be protecting. The failure of the news media to uphold the rights of citizens sets the stage for this slippery slope. Police State USA tells how we might overcome and recapture our freedoms, as envisioned by the Founding Fathers.
Praise For Police State USA: How Orwell's Nightmare is Becoming our Reality…
"One of the first things necessary to take back this nation is becoming informed. Police State USA is the book that will get you there and inspire you to defend this nation from big government zealots who believe you won't notice what they're up to." — 
Tammy Bruce
, radio talk-show host, author, and Fox News contributor
"Powerful, powerful book. Even if you know about most of this, its important to give Police State USA to your police chief, to your county commissioner. We can turn the tide." — Alex Jones, Infowars.com
"
Police State USA
 is very timely and I hope people will want to think about this topic, and that Americans take it up and read it." — 
Gov. Mike Huckabee
, host of Fox News Channel program "Huckabee"
WND Books, 9781936488148, 240pp.
Publication Date: May 27, 2014
About the Author
Cheryl K. Chumley is a full-time writer with The Washington Times. She writes about politics and government for various newspapers, Internet news sites, and think tanks. She is a journalism fellow with The Phillips Foundation, a prestigious conservative organization in Washington, D.C., where she spent a year researching and writing about private property rights.
or
Not Currently Available for Direct Purchase