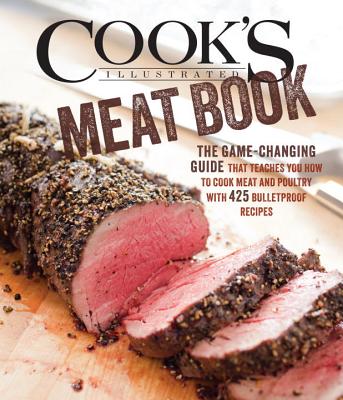 Cook's Illustrated Meat Book (Hardcover)
The Game-Changing Guide That Teaches You How to Cook Meat and Poultry with 425 Bulletproof Recipes
Cook's Illustrated, 9781936493869, 504pp.
Publication Date: October 1, 2014
* Individual store prices may vary.
Description
Eminently practical and truly trustworthy, The Cook's Illustrated Meat Book is the only resource you'll need for great results every time you cook meat.

Whether you have burgers, steak, ribs, or roast chicken on the menu shopping for and cooking meat can be confusing, and mistakes can be costly. After 20-plus years of purchasing and cooking beef, pork, lamb, veal, chicken, and turkey, the editors of Cook's Illustrated understand that preparing meat doesn't start at the stove it starts at the store.

The Cook's Illustrated Meat Book begins with a 27-page master class in meat cookery, which covers shopping (what's the difference between natural and organic labels?), storing (just how long should you really refrigerate meat and does the duration vary if the meat is cooked or raw?), and seasoning meat (marinating, salting, and brining).

Matching cut to cooking method is another key to success, so our guide includes fully illustrated pages devoted to all of the major cooking methods: sautéing, pan-searing, pan-roasting, roasting, grilling, barbecuing, and more. We identify the best cuts for these methods and explain point by point how and why you should follow our steps and what may happen if you don't.

425 Bulletproof and rigorously tested recipes for beef, pork, lamb, veal, and poultry provide plenty of options for everyday meals and special occasion dinners and you'll learn new and better ways to cook favorites such as Pan-Seared Thick-Cut Steak, Juicy Pub-Style Burgers, Weeknight Roast Chicken, Barbecued Pulled Pork, and more.

The Cook's Illustrated Meat Book also includes equipment recommendations (what should you look for in a good roasting pan and is it worth spending extra bucks on a pricey nonstick skillet?). In addition, hundreds of step-by-step illustrations guide you through our core techniques so whether you're slicing a chicken breast into cutlets or getting ready to carve prime rib the Cook's Illustrated Meat Book covers all the bases
About the Author
Cook's Illustrated is a widely renowned America's Test Kitchen brand that is the work of over 60 passionate chefs based in Boston, Massachusetts, who put ingredients, cookware, equipment, and recipes through objective, rigorous testing to identify the very best. America's Test Kitchen brands are well-known for top-rated television shows with more than 4 million weekly public television viewers, bestselling cookbooks, magazines, websites, and a cooking school. Discover, learn, and expand your cooking repertoire with Julia Collin Davison, Bridget Lancaster, Jack Bishop, Dan Souza, Lisa McManus, Tucker Shaw, Bryan Roof, and our fabulous team of test cooks!
Coverage from NPR