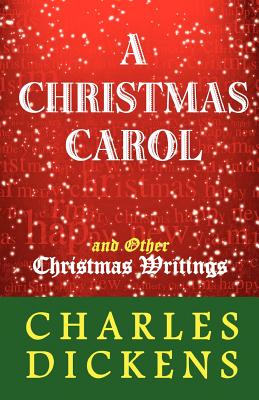 A Christmas Carol and Other Christmas Writings (Paperback)
Tribeca Books, 9781936594139, 182pp.
Publication Date: October 23, 2010
Other Editions of This Title:
Hardcover (9/28/2010)
Mass Market (12/6/2011)
Paperback (9/30/2003)
Paperback (7/1/2008)
Prebound (12/6/2011)
Hardcover (11/10/2009)
Mass Market Paperback (12/6/2011)
Hardcover (10/1/2013)
Paperback (11/1/2007)
Hardcover (11/1/2006)
Paperback (6/15/2019)
* Individual store prices may vary.
Description
A Christmas Carol and other Christmas Writings: A Christmas Carol, A Christmas Tree, What Christmas is as we Grow Older, The Poor Relation's Story, The Child's Story, The Schoolboy's Story, Nobody's Story. The tale begins on Christmas Eve seven years after the death of Ebenezer Scrooge's business partner Jacob Marley. Scrooge is established within the first stave (chapter) as a greedy and stingy businessman who has no place in his life for kindness, compassion, charity, or benevolence. After being warned by Marley's ghost to change his ways, Scrooge is visited by three additional ghosts "each in its turn" who accompany him to various scenes with the hope of achieving his transformation. The first of the spirits, the Ghost of Christmas Past, takes Scrooge to the scenes of his boyhood and youth which stir the old miser's gentle and tender side by reminding him of a time when he was more innocent. The second spirit, the Ghost of Christmas Present, takes Scrooge to several radically differing scenes (a joy-filled market of people buying the makings of Christmas dinner, the family feast of Scrooge's near-impoverished clerk Bob Cratchit, a miner's cottage, and a lighthouse among other sites) in order to evince from the miser a sense of responsibility for his fellow man. The third spirit, the Ghost of Christmas Yet to Come, harrows Scrooge with dire visions of the future if he does not learn and act upon what he has witnessed. Scrooge's own neglected and untended grave is revealed, prompting the miser to aver that he will change his ways in hopes of changing these "shadows of what may be." In the fifth and final stave, Scrooge awakens Christmas morning with joy and love in his heart, then spends the day with his nephew's family after anonymously sending a prize turkey to the Crachit home for Christmas dinner. Scrooge has become a different man overnight, and now treats his fellow men with kindness, generosity, and compassion, gaining a reputation as a man who embodies the spirit of Christmas. The story closes with the narrator confirming the validity, completeness, and permanence of Scrooge's transformation.