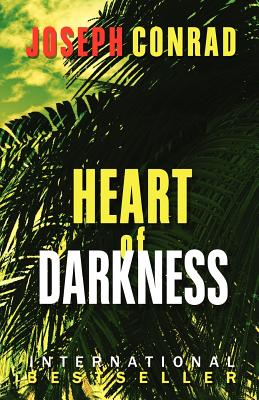 Heart of Darkness (Paperback)
Tribeca Books, 9781936594146, 118pp.
Publication Date: October 28, 2010
Other Editions of This Title:
Paperback (9/1/2013)
Paperback (7/30/2008)
Paperback (11/6/2015)
Paperback, Large Print (9/10/2015)
Paperback (1/15/2010)
Paperback (11/2/2006)
Paperback (11/17/2018)
Paperback (7/30/2008)
Paperback, Large Print (12/22/2005)
Paperback (4/8/2013)
Paperback (12/11/2015)
Paperback (10/11/2012)
Paperback (3/13/2014)
Paperback (12/23/2013)
Paperback (4/9/2015)
Paperback (5/19/2016)
Paperback (11/22/2011)
Paperback (7/26/2015)
Paperback (3/26/2016)
Paperback (6/29/2015)
* Individual store prices may vary.
Description
Heart of Darkness is a novella written by Joseph Conrad. It is widely regarded as a significant work of English literature and part of the Western canon. The story tells of Charles Marlow, an Englishman who took a foreign assignment from a Belgian trading company as a ferry-boat captain in Africa. Heart of Darkness exposes the myth behind colonization while exploring the three levels of darkness that the protagonist, Marlow, encounters--the darkness of the Congo wilderness, the darkness of the European's cruel treatment of the natives, and the unfathomable darkness within every human being for committing heinous acts of evil. Although Conrad does not give the name of the river, at the time of writing the Congo Free State, the location of the large and important Congo River, was a private colony of Belgium's King Leopold II. Marlow is employed to transport ivory downriver. However, his more pressing assignment is to return Kurtz, another ivory trader, to civilization, in a cover-up. Kurtz has a reputation throughout the region. This symbolic story is a story within a story or frame narrative. It follows Marlow as he recounts from dusk through to late night, to a group of men aboard a ship anchored in the Thames Estuary his Congolese adventure. The passage of time and the darkening sky during the fictitious narrative-within-the-narrative parallel the atmosphere of the story.