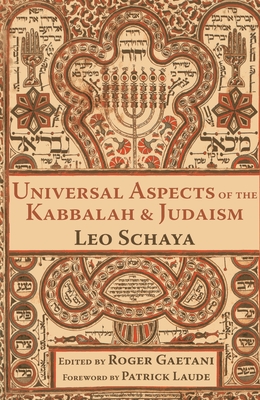 Universal Aspects of the Kabbalah & Judaism (Paperback)
World Wisdom Books, 9781936597338, 197pp.
Publication Date: July 31, 2014
* Individual store prices may vary.
Description
Leo Schaya (1916-1986) was a brilliant author and editor whose only book to appear in English was the much-acclaimed The Universal Meaning of the Kabbalah, which is often cited in books on Jewish mysticism. This new book, Universal Aspects of the Kabbalah and Judaism, is a collection of writings by Schaya, including some previously unpublished material, that highlight the particular way in which Judaism expresses universal truths and concepts. Schaya explains in great depth and beauty how the God of Israel manifests His goodness, power, and mercy in multiple levels of creative emanations, which are the main focus of the Kabbalah. Even more, however, Schaya looks through Judaism's particular forms and demonstrates that at its core Judaism reveals the same mysterious universal source from which all of the great religious traditions of the world draw their spiritual sustenance and energy.
About the Author
Leo Schaya (1916-1986) was a prolific author and editor of works on comparative religion and Judaism. He was born in Switzerland, but spent much of his life in Nancy, France. Schaya edited two different French language journals on Comparative Religion, Etudes Traditionnelles and Connaissance des Religions. Although widely published in his native German, and French, this is only his second book to be published in English. He died in 1986. Roger Gaetani is an editor and translator. He is co-editor (with Jean-Louis Michon) of the anthology Sufism: Love and Wisdom, and editor of The Spirit of Tolerance: The Inspiring Life of Tierno Bokar and Introduction to Sufism: The Inner Path of Islam. He lives in Bloomington, IN."
or
Not Currently Available for Direct Purchase