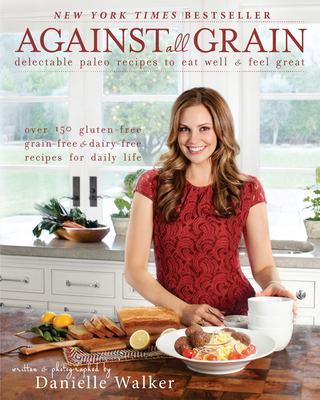 Against All Grain
Delectable Paleo Recipes To Eat Well And Feel Great
Paperback

* Individual store prices may vary.
Description
Having battled an autoimmune disease the modern-medicine way for many years, Danielle Walker took matters into her own hands and set out to regain her health through the medicine of food. After four years of turning her kitchen into a laboratory for revamping her culinary point of view, Danielle mastered the art of grain- and dairy-free cooking—and improved her well-being, virtually eliminating all her ailments.A self-trained chef, Danielle is the new face of grain-free cooking, tempting foodies of all stripes with her accessible recipes for vibrant Paleo food. Paying homage to the dishes she loved in her pre-Paleo life, she has ingeniously recreated all her favorites without grains or dairy in her first cookbook.Complementing her innovative recipes with elegant photography, Danielle takes you on a culinary Paleo journey that includes everything from quick breakfasts to sinful desserts, with a long list of hearty entrees in-between. And because Danielle knows she's not the only one with a finicky toddler at home, she has included a special section filled with healthy recipes that kids will be eager to eat and moms will be just as eager to serve.These recipes are sure to leave you feeling satisfied and exhilarated, rather than discouraged and deprived. Danielle proves that omitting grains, gluten, dairy, and refined sugar doesn't correlate with sacrificing taste; in fact, just the opposite. This book will show you that you can go against the grain in the culinary world and enter a paradise of gourmet foods with exciting flavors.
Praise For Against All Grain: Delectable Paleo Recipes To Eat Well And Feel Great…
"Danielle brings the lessons of personal experience and delights with a palette of beautiful and delicious recipes consistent with the Paleo dietary concepts."—Dr. William Davis, New York Times best-selling author of Wheat Belly

"Danielle's riveting story of life-transformation through diet is a testament to the many ways that food can heal the body. Not only do the recipes in this book comply with the Paleo-diet lifestyle, but she makes the grain-free transition effortless, and you will revel in each and every bite."—Diane Sanfilippo, New York Times best-selling author of Practical Paleo

"Grains are healthy, right? How could you ever live without them? Against All Grain just might change your mind about a few of your ideas—and provide some tasty food for thought."—Robb Wolf, New York Times best-selling author of The Paleo Solution

"With everything from appetizers to beverages, this book—full of healthy, yet amazingly delicious recipes—is one of my favorites. Get yourself a copy—don't miss out!"—Elana Amsterdam, author of The Gluten-Free Almond Flour Cookbook and the popular blog Elana's Pantry

"Danielle's inventive recipes and gorgeous food photography will inspire you to dash to the kitchen, throw on an apron, and start cooking."—Michelle Tam, author of the blog Nom Nom Paleo
Victory Belt Publishing, 9781936608362, 368pp.
Publication Date: July 30, 2013
About the Author
Danielle Walker is the author and creator of the popular Paleo-food blog Against All Grain (www.againstallgrain.com). Having to deal with a diagnosis of an autoimmune disease at only twenty-two years old, and unable to alleviate her symptoms with conventional medicine, she eventually came to the conclusion that she had to remove grains, lactose, legumes, and refined sugars from her diet. When she realized that there were many others out there struggling with the same issues, she combined her culinary skills and love for food with an equal love for journalism in a campaign to end her own agony and become a source of hope for others suffering from all types of diseases and allergies.Danielle's goal has always been to never feel deprived, but rather to feel joy and satisfaction with each bite of food she eats. She and her husband, Ryan, live in the San Francisco Bay Area with their energetic toddler, Asher, and spunky dog, Ahavah.
or
Not Currently Available for Direct Purchase