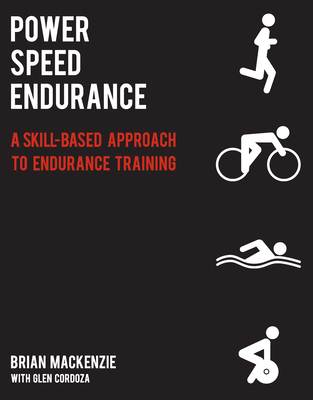 Power Speed ENDURANCE
A Skill-Based Approach to Endurance Training
Paperback

* Individual store prices may vary.
Other Editions of This Title:
Paperback (7/1/2011)
Description
Power, Speed, ENDURANCE
is a highly effective training system that has catapulted thousands of endurance athletes to the next level. Developed by CrossFit Endurance founder Brian MacKenzie and featuring instruction from some of the world's top endurance and CrossFit coaches,
Power, Speed, ENDURANCE
unveils techniques, drills, and training strategies that will optimize your performance and overall work capacity while decreasing your susceptibility to injury.
Through thousands of step-by-step color photographs and detailed narrative,
Power, Speed, ENDURANCE
breaks down proper running, cycling, and swimming mechanics like never before. MacKenzie's unique system of building strength, speed, and power is aimed at reaping continual results, without injury. In fact, he devotes an entire chapter to the "broken down" athlete, equipping you with the knowledge to prevent, repair, and treat injuries brought on by poor mechanics and tight overworked muscles. In addition, MacKenzie outlines a straightforward approach to nutrition, hydration, and electrolyte balance that will increase your energy, boost your performance, and accelerate your recovery.
Whether you're a self-trained athlete looking to compete in your first endurance event, a seasoned competitor looking to reach your highest potential, or a CrossFit athlete looking to increase stamina,
Power, Speed, ENDURANCE
will help you reach your goal.
In this book, you will learn how to:
develop proper running technique using the Pose Method
properly fit yourself on a bike
improve cycling mechanics on a road, time-trial, and mountain bike
swim effortlessly and improve freestyle-stroke mechanics through skill-based drills and exercises
accelerate work capacity and minimize fatigue by building muscle, speed, and power
incorporate a CrossFit Endurance strength-and-conditioning program into your training routine
maximize nutrition, hydration, and electrolyte balance to improve performance and body composition
prevent, repair, and treat nagging injuries associated with endurance sports and improve range of motion using Starrett's Movement and Mobility Method
Praise For Power Speed ENDURANCE: A Skill-Based Approach to Endurance Training…
"While writing The 4-Hour Body, I conducted thousands of tests and experiments and consulted with more than a hundred scientists, doctors, and world-class athletic coaches. It was a three-year quest to find the smallest inputs that create the largest outputs. On the endurance front, one name came up again and again: Brian MacKenzie. If you want to go from zero to marathon in 12 weeks, or perhaps run 100 miles and dead-lift two to three times your body weight without struggle, he's your secret weapon. Listen and learn."—Timothy Ferriss, #1 New York Times best-selling author of The 4-Hour Body
Victory Belt Publishing, 9781936608614, 416pp.
Publication Date: November 12, 2012
About the Author
Brian MacKenzie is a world-renowned strength and conditioning coach and the innovator of the endurance / strength and conditioning paradigm. He created CrossFit Endurance (www.crossfitendurance.com), which specializes in movement with an emphasis in running, cycling, and swimming mechanics. MacKenzie and his program have been featured in Competitor Magazine, Runners World, Triathlete Magazine, Men's Journal, ESPN Rise, The Economist, Tim Ferriss' New York Times bestseller The 4-Hour Body, Men's Running UK, LA Sport & Fitness, and Rivera Magazine. He has consulted with several teams, including the 2012 Western Athletic Conference Champions San Jose State Women's Swim Team.