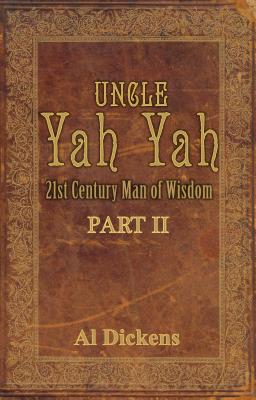 Uncle Yah Yah II (Paperback)
21st Century Man of Wisdom
Wahida Clark Presents Publishing, LLC, 9781936649013, 216pp.
Publication Date: May 1, 2012
Other Editions of This Title:
Hardcover (5/1/2012)
* Individual store prices may vary.
Description
Rudy Hawkins the reporter from the Essex Forum News is on his way back to visit with Uncle Yah Yah. Little does he know that his whole life is about to change. Rudy thought that his first visit with Yah Yah was a blast that took him out of what is called the ordinary life. The life changing things he learned on his first meeting with Uncle Yah Yah was nothing in comparison to the atomic bomb that he is about to receive. He is given a second manuscript with more pages than the first. It also contains a surprise . . . a secret letter that could only be explained as something from out of this world.
About the Author
Al Dickens was born in Winter Haven, Florida. He and his family (mother, father and sister) moved to Newark, New Jersey in the early forties. Raised in the streets of Newark's 2nd and 3rd wards made it almost inevitable that Al would start having serious trouble with the law by the age of 14. Al spent the last 16 years of his life behind bars as a result of two armed robbery convictions. But the prison turned out to be a golden opportunity for Al to get a formal education; and he took full advantage of it. By the time Al completed two years of college, he had co-authored three books and was working on Uncle Yah Yah. Al says, "The knowledge, wisdom and understanding of self, society and religion, are the magical potions which transforms your world from a sphere of meaningless conglomerations of people, places and things and changes them into specific categories of elements to be assimilated for strength, or to be opposed for protection. Such a character possessed of this golden elixir is referred to as Omnipresent, or living in-tune with what's happening now. I know, because I crawled into this prison cell-like cocoon a lowly caterpillar, but I shall emerge a butterfly, dancing about and kissing the pretty flowers in the springtime of my youth. Watch for me."