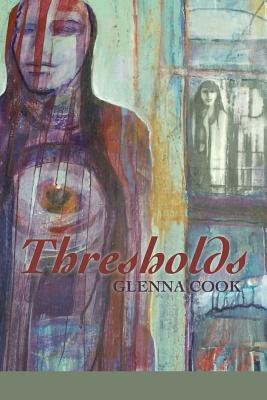 Thresholds
Paperback

* Individual store prices may vary.
Description
"Readers of the book Thresholds will experience what Glenna Cook calls 'the good purpose, ' the intention of poems meaningfully conflicted between fierce moments and tender moments that compose a life. In all her wisdom and experience, she still struggles to answer questions about love, devotion, loneliness and 'this grandeur of the universe.' These carefully constructed poems share childhood pains and shames. Like any poet, Cook plays subordinate to language: 'I'm sorry/about my words./I try to keep them in/behind their white picket fence, /but they get out when I least expect it.'"
--Allen Braden, author of A Wreath of Down and Drops of Blood: Poems
"Glenna Cook's debut poetry collection explores the family photo album as a threshold of narratives, memories, secrets, wishes, silences--and absences. From a 1940s childhood and a mother pregnant with the knowledge of her child's Downs Syndrome; to an adulthood elegy for a brother who died before she was born; to a poignant sequence entitled Wake to December (in part, exploring her son's death from cancer), Cook is unafraid of life's refrain of pain and sorrow. Yet, despite the exploration of death and loss--the collection's abiding refrain
is faith: faith in the redemptive power of love, joy, and above all--hope. These poems are love poems of endurance and survival, which seek to answer the question: how do we find a language for what leaves us wordless?"
--Rommi Smith, poet and playwright
Moonpath Press, 9781936657285, 178pp.
Publication Date: June 19, 2017