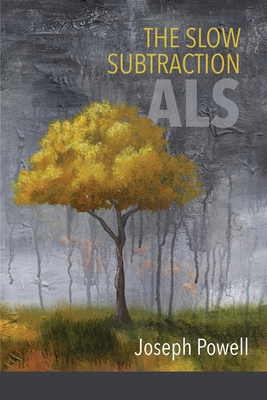 The Slow Subtraction
A.L.S.
Paperback

* Individual store prices may vary.
Description
"I've never read anything remotely like The Slow Subtraction: A.L.S., Joseph Powell's deeply loving collection that tracks how it is to lose the beloved one day at a time. These profoundly beautiful poems broach the place that
Emily Dickinson called 'internal difference, / Where the meanings, are.' Honesty is a difficult art; you will feel its powers grieve and restore you, over and over."
Nancy Eimers, author of Oz

"The Slow Subtraction is a stunning, heartbreaking collection made more poignant for Powell's trenchant eye on the devastations caused by A.L.S on his late wife, the poet Judith Kleck. This chronology of subtractions to 'the
staircase / of her brain, ' and the ravages of a body's gradual dying, create a luminous elegy. The 'opulence in the skin's sweet torment' might feel like 'all the back doors opened into coffins of alley light, ' but there is grace
here, enlarging 'the sway of events, /the way pettiness is candleflicker against the passing night.'"
Adrianne Kalfopoulou, author of The History of Too Much
Moonpath Press, 9781936657483, 94pp.
Publication Date: November 1, 2019