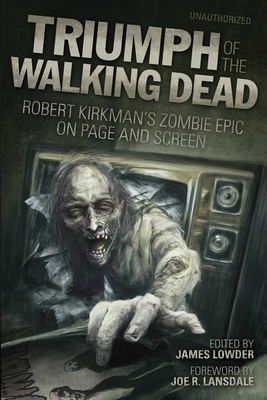 Triumph of The Walking Dead
Robert Kirkman's Zombie Epic on Page and Screen
Paperback

* Individual store prices may vary.
Description
All zombies are created equal. All zombie stories are not.

From its humble beginnings as an indie comic book, The Walking Dead has become a pop culture juggernaut boasting New York Times–bestselling trade paperbacks, a hit television series, and enough fans to successfully take on any zombie uprising.

Triumph of The Walking Dead explores the intriguing characters, stunning plot twists, and spectacular violence that make Robert Kirkman's epic the most famous work of the Zombie Renaissance. The Walking Dead novels' co-author Jay Bonansinga provides the inside story on translating the comics into prose; New York Times bestseller Jonathan Maberry takes on the notion of leadership (especially Rick Grimes') during the zombie apocalypse; Harvard professor Steven Schlozman dissects the disturbing role of science in the television series; and more.

Triumph of The Walking Dead features a foreword by horror legend Joe R. Lansdale.
Praise For Triumph of The Walking Dead: Robert Kirkman's Zombie Epic on Page and Screen…
"Fun and informative . . . Triumph of The Walking Dead successfully manages to do what any collection of its sort intends: Help us understand why the series is so good (and successful), while enhancing our enjoyment at the same time."
—Bookgasm
Smart Pop, 9781936661138, 256pp.
Publication Date: November 1, 2011
About the Author
James Lowder has worked extensively on both sides of the editorial blotter. His credits include the bestselling, widely translated novels Prince of Lies and Knight of the Black Rose, short fiction for such anthologies as Shadows Over Baker Street and The Repentant, and comic book scripts, role-playing game material, and hundreds of reviews and articles, including essays for the BenBella titles The Unauthorized X-Men and King Kong is Back! As an editor, he's directed book lines or series for a variety of publishers and has helmed more than a dozen critically acclaimed anthologies, including Curse of the Full Moon, Hobby Games: The 100 Best, and the Books of Flesh zombie anthology series. He's been a finalist for the International Horror Guild Award and the Stoker Award, and has won five Origins Awards and a silver ENnie Award.

The New York Times Book Review describes Joe R. Lansdale as a writer with "a folklorist's eye for telling detail and a front-porch raconteur's sense of pace." Lansdale is the author of thirty novels and over two hundred short stories, articles, and essays. His work has received an Edgar, two New York Times notable books, seven Bram Stoker Awards, the British Fantasy Award, the Inkpot Award, the Herodotus Award for historical fiction, and many others. His novella "Bubba Ho-Tep" was made into a cult movie of the same name. His work has also been filmed for Showtime. His latest novel is Devil Red, published by Knopf. Online at joerlansdale.com.

Jay Bonansinga (author; The Black Mariah, co-author with Robert Kirkman of upcoming Walking Dead novels)

Jonathan Maberry (New York Times bestselling author; Patient Zero, Zombie CSU, Marvel Zombies Return)

Kim Paffenroth (professor of Religious Studies and zombie scholar; Gospel of the Living Dead: George Romero's Visions of Hell on Earth)

Lisa Morton (author and screenwriter; The Lucid Dreaming, A Hallowe'en Anthology: Literary and Historical Writings Over the Centuries)

Kyle William Bishop (English professor at Southern Utah University; American Zombie Gothic: The Rise and Fall (and Rise) of the Walking Dead)

Craig Fischer (professor at Appalachian State, comic scholar; The Comics Journal, The International Journal of Comic Art)

Kenneth Hite (game designer and writer; Zombies 101, Trail of Cthulhu)

Kay Steiger (editor of Campus Progress and author; The Atlantic, Bitch Magazine, In These Times)

Ned Vizzini (young adult author; It's Kind of a Funny Story, Be More Chill)

Scott Kenemore (author; The Zen of Zombie: Better Living Through the Undead, Z.E.O., The Art of Zombie Warfare)

Brendan Riley (professor at Columbia College Chicago, author; Journal of Popular Culture, The Amazing Transforming Superhero)

Arnold T. Blumberg (instructor at University of Baltimore, author; Zombiemania, The Big BIG LITTLE BOOK Book)

Vince Liaguno (author, anthologist, and editor; Unspeakable Horror: From the Shadows of the Closet, The Literary Six, Butcher Knives & Body Counts)