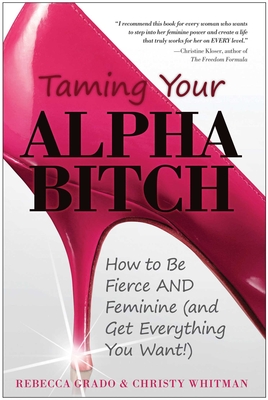 Taming Your Alpha Bitch
How to Be Fierce and Feminine (and Get Everything You Want!)
Paperback

* Individual store prices may vary.
Description
In many areas women have earned the equality we've been fighting for. We've broken through glass ceilings and achieved great success. We've shown that we can prosper by our own means. And we've become influential, respected leaders. Yet many of us find ourselves unhappy, anxious, overwhelmed. Where's the pot of gold at the end of our "I can do it just like a man" rainbow? The problem is that while we can be as successful as a man, we don't get there through a masculine approach. Being a "damsel in distress" is not the way to make your dreams come true, but neither is being the hyper-aggressive Alpha Bitch. In this New York Times bestselling book, transformation leaders Christy Whitman and Rebecca Grado reveal how when women try to claim power through a forceful "take no prisoners" approach it ultimately works against us and undermines our best efforts to create the life of our dreams. In fact, wielding Alpha Bitch force is ironically disempowering, because it introduces conflict, struggle, and competition into our personal and professional relationships, blocking women from creating the life we desire. How do you change from being a controlling, competitive, and disruptive Alpha Bitch to being an Empowered Female who is allowing, collaborative, and balanced? Enter the Laws of the Universe: - The Law of Attraction
- The Law of Allowing
- The Law of Pure Potentiality
- The Law of Oneness
- The Law of Balance and Harmony
- The Law of Sufficiency and Abundance Taming the Alpha Bitch will show you how to use these laws to create freedom, joy, and abundance in your life. By using this knowledge, you put yourself in the ideal position for attracting those things you want with ease and effortlessness, not struggle and pain.
Praise For Taming Your Alpha Bitch: How to Be Fierce and Feminine (and Get Everything You Want!)…
Self-acceptance is necessary before anyone can be happy. How wonderful that this book helps women stop torturing themselves emotionally, mentally, and physically, so that they can live in the bliss of love and prosperity."
Terry Cole-Whittaker, #1 New York Times bestselling author of What You Think of Me is None of My Business

An informative, fantastic book! I give a standing ovation to the authors. Bravo!"
Lisa Whatley, self-help empowerment specialist, published writer, life coach, and energy medicine healer

I applaud Christy Whitman and Rebecca Grado's new book on the divine feminine energy and the Law of Allowing. It comes in the right moment in time. Women will be back in power after thousands of years, to change life on Earth. This book is powerful because it teaches you how to unleash the power you are meant to have and be who you are meant to be."
Dr. Carmen Harra, bestselling author of The Trinity of Health

If you, like myself, desire a deeper and truer life, and a better understanding of yourself, this book will provide you with answers. I recommend this book for every woman who wants to step into her feminine power and create a life that truly works for her on EVERY level."
Christine Kloser, author of The Freedom Formula

Expressing the masculine was something women needed to understand the feminine and sense, at a deeper level, how powerful and fulfilling living in the feminine is. This book shows you how to BE that fully embodied woman that you are. It is a primer for those of us turning more and more to embrace this wonderful and deep aspect of our being."
Jennifer McLean Healer, speaker, author, and host of Healing With The Masters"

A great book for women interested in success, who are ready to take control of their financial futures and create lasting and sustainable wealth and power. Christy and Rebecca illuminate the behaviors that women use to sabotage their financial health, while providing solid strategies for positive change."
Loral Langemeier, CEO/Founder of Live Out Loud, international speaker, money expert, and bestselling author of the Millionaire Maker series and Put More Cash In Your Pocket

A must-read for all over-controlling and over-doing achievement junkies who are tired of chasing balance and working so damn hard. Taming Your Alpha Bitch is a witty and wise guide that tells the truth about where our real power as women liesand surprise, it's not where you think!"
Christine Arylo, co-founder of Inner Mean Girl Reform School and author of Choosing ME before WE

Taming Your Alpha Bitch is so important. So many women, myself included, know the stress that comes from the forceful, competitive, masculine inner-drive, but true feminine strength is not that at all—it's wise, collaborative, receptive, creative, and intuitive. This is the true power of women. Bravo for bringing us such a book!"
Colette Baron-Reid, internationally renowned intuitive counselor, educator, and bestselling author of The Map: Finding the Magic and Meaning in the Story of Your Life

A must-read for every woman who is tired of feeling frustrated, lonely, jealous, or emotionally tense. Rebecca and Christy show you how to achieve what you want while feeling more peaceful and connected. Highly recommended."
Peggy McColl, New York Times bestselling author of Your Destiny Switch

As a businesswoman, I have endured more than a few alpha bitches. This is a much-needed, overdue book I wish had been available to send to them. A must-read for both those who ARE alpha bitches and those who must work with them."
Arielle Ford, author of New York Times bestseller, The Soulmate Secret

When you read this book, you will see that there really are only two choices in any situation the hard way or the easy way. Taming Your Alpha Bitch will help you discover what's lurking underneath your Alpha female so you can manifest your desires from your peaceful and pure feminine power bringing more joy, fulfilling relationships and effortless success. In essence, you'll learn how to make things easy. And who doesn't want that?"
Beth A. Grant, marketing strategist and award-winning writer and editor
Benbella Books, 9781936661152, 224pp.
Publication Date: January 31, 2012
About the Author
Christy Whitman is an in-demand life coach, transformational leader, CEO and founder of the Quantum Success Coaching Academy(TM), a 12 month Law of Attraction coaching certification program. She has helped thousands of women and men around the world achieve their goals through her empowerment seminars, speeches, and coaching sessions and products. Christy's life-changing message reaches over 80,000 people a month and she has been quoted in Seventeen, Woman's World, Woman's Day, Teen Vogue, The Star Ledger, and Knot Magazine. As a certified Law of Attraction coach, her work has been promoted by and featured with best-selling authors like Marianne Williamson, Dr. Wayne Dyer, Marci Shimoff, Brian Tracy, Neal Donald Walsch, Abraham-Hicks and Louise Hay. She currently lives in Montreal with her husband, Frederic, and their two boys, Alexander and Maxim. Rebecca Grado is a licensed spiritual psychotherapist and author. She holds a Master's degree in counseling and a Bachelor's degree in clinical psychology. For the past twenty-five years she has maintained a thriving private practice helping thousands of individuals discover their power and expand their awareness through the techniques taught in her books and seminars. A true visionary in her approach, she skillfully blends her intuitive gift with traditional psychotherapeutic techniques, enabling her clients to rapidly transform limitations and awaken their greatest potential. Rebecca's inspiring message reaches thousands monthly through her Enlightened Living Newsletter. She has been quoted in several news articles including aol.com and momlogic.com. She is a contributing author to two books with bestselling authors Dr. Wayne Dyer and Anthony Robbins. Rebecca resides in the San Francisco Bay Area with her son, Alex and daughter, Brianna.
or
Not Currently Available for Direct Purchase