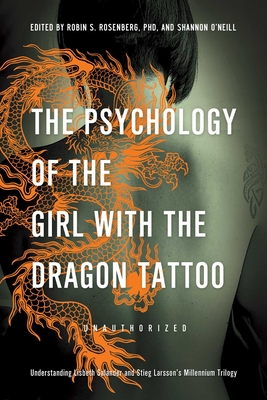 The Psychology of the Girl with the Dragon Tattoo (Paperback)
Understanding Lisbeth Salander and Stieg Larssona's Millennium Trilogy
Smart Pop, 9781936661343, 304pp.
Publication Date: December 6, 2011
* Individual store prices may vary.
Description
Lisbeth Salander, heroine of Stieg Larsson's The Girl with the Dragon Tattoo and its sequels, is one of the most compelling, complex characters of our time. Is she an avenging angel? A dangerous outlaw? What makes Salander tick, and why is our response to her--and to Larsson's Millennium trilogy--so strong? In The Psychology of the Girl with the Dragon Tattoo, 19 psychologists and psychiatrists attempt to do what even expert investigator Mikael Blomkvist could not: understand Lisbeth Salander. - What does Lisbeth's infamous dragon tattoo really say about her?
- Why is Lisbeth so drawn to Mikael, and what would they both need to do to make a relationship work?
- How do we explain men like Martin Vanger, Nils Bjurman, and Alexander Zalachenko? Is Lisbeth just as sexist and as psychopathic as they are?
- What is it about Lisbeth that allows her to survive, even thrive, under extraordinary conditions?
- How is Lisbeth like a Goth-punk Rorschach test? And what do we learn about ourselves from what we see in her?

About the Author
Robin S. Rosenberg, PhD, is a clinical psychologist. She writes college-level psychology textbooks and has taught psychology courses at Lesley University and Harvard University. She also writes about popular culture figures and the psychological phenomena their stories reveal. Shannon O'Neill is an editorial consultant for a prominent literary agency in Washington, D.C. She also teaches at American University. Shannon has a master's in Writing from Johns Hopkins University.
or
Not Currently Available for Direct Purchase