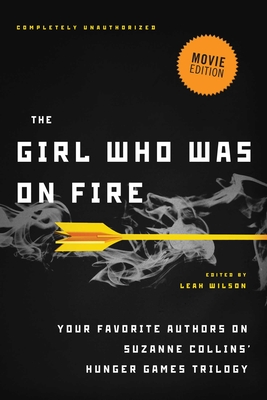 The Girl Who Was on Fire (Movie Edition)
Your Favorite Authors on Suzanne Collins' Hunger Games Trilogy
Paperback

* Individual store prices may vary.
Description
Includes 3 brand new essays on Gale, the Games, and Mockingjay!

**Already read the first edition of The Girl Who Was on Fire? Look for The Girl Who Was on Fire - Booster Pack to get just the three new essays and the extra movie content.**

Katniss Everdeen's adventures may have come to an end, but her story continues to blaze in the hearts of millions worldwide.

In The Girl Who Was on Fire - Movie Edition, sixteen YA authors take you back to the world of the Hunger Games with moving, dark, and funny pieces on Katniss, the Games, Gale and Peeta, reality TV, survival, and more. From the trilogy's darker themes of violence and social control to fashion and weaponry, the collection's exploration of the Hunger Games reveals exactly how rich, and how perilous, Panem, and the series, really is.

• How does the way the Games affect the brain explain Haymitch's drinking, Annie's distraction, and Wiress' speech problems?
• What does the rebellion have in common with the War on Terror?
• Why isn't the answer to "Peeta or Gale?" as interesting as the question itself?
• What should Panem have learned from the fates of other hedonistic societies throughout history—and what can we?

CONTRIBUTORS: Jennifer Lynn Barnes, Mary Borsellino, Sarah Rees Brennan, Terri Clark, Bree Despain, Adrienne Kress, Sarah Darer Littman, Cara Lockwood, Elizabeth M. Rees, Carrie Ryan, Ned Vizzini, Lili Wilkinson, Blythe Woolston, Diana Peterfreund (NEW), Brent Hartinger (NEW), Jackson Pearce (NEW)
Praise For The Girl Who Was on Fire (Movie Edition): Your Favorite Authors on Suzanne Collins' Hunger Games Trilogy…
The Girl Who Was on Fire is a MUST read for any Hunger Games fan. This anthology is as touching and thought provoking as the series itself. The essays included will challenge you to think of aspects of the trilogy in a new and deeper way . . . The Hunger Games may be over, but thanks to The Girl Who was on Fire, the discussion continues.
—Down With the Capital (Hunger Games fansite)

My copy is completely highlighted, underlined, written in the margins, and dog-eared. You don't know how many times while I was reading it I said emphatically to myself, "Yes!!" as I underlined or highlighted a quote or passage.
—Book Nerds Across America

A fascinating collection of essays about the Hunger Games series … This book is LEGIT. All of the essays are thought-provoking and they really get into the heart and soul of the series. In fact, I'll even bet you that you'll come away from this book liking the series more than you did already.
—Forever Young Adult
Smart Pop, 9781936661589, 280pp.
Publication Date: January 17, 2012
About the Author
Leah Wilson graduated from Duke University with a degree in Culture and Modern Fiction and is currently Editor-in-Chief, Smart Pop, at BenBella Books. She lives in Cambridge, Mass.