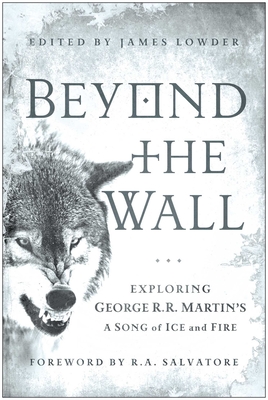 Beyond the Wall (Paperback)
Exploring George R. R. Martin's a Song of Ice and Fire
Smart Pop, 9781936661749, 220pp.
Publication Date: June 19, 2012
* Individual store prices may vary.
Description
"There were a number of books about A Game of Thrones (the HBO series) and A Song of Ice and Fire (the books) published last year . . . the one that impressed me most was James Lowder's Beyond the Wall."
--George R.R. Martin Foreword by New York Times bestselling author R.A. Salvatore Go beyond the Wall and across the narrow sea with this collection about George R.R. Martin's A Song of Ice and Fire, from A Game of Thrones to A Dance with Dragons. The epic game of thrones chronicled in George R.R. Martin's A Song of Ice and Fire series has captured the imaginations of millions of readers. In Beyond the Wall, bestselling authors and acclaimed critics offer up thought-provoking essays and compelling insights: Daniel Abraham reveals the unique challenges of adapting the original books into graphic novels. Westeros.org founders Linda Antonsson and Elio M. Garcia, Jr., explore the series' complex heroes and villains, and their roots in the Romantic movement. Wild Cards contributor Caroline Spector delves into the books' controversial depictions of power and gender. Plus much more, from military science fiction writer Myke Cole on the way Post-Traumatic Stress Disorder shapes many of the leading characters to author and television writer Ned Vizzini on the biases against genre fiction that color critical reactions to the series. Contributors: R.A. Salvatore (foreword)
Daniel Abraham
Linda Antonsson
Myke Cole
Elio M. Garcia, Jr.
Brent Hartinger
John Jos. Miller
Alyssa Rosenberg
Jesse Scoble
Caroline Spector
Matt Staggs
Susan Vaught
Ned Vizzini
Gary Westfahl
Adam Whitehead
Andrew Zimmerman Jones.
About the Author
James Lowder has worked extensively on both sides of the editorial blotter. His bestselling, widely translated dark fantasy novels include Knight of the Black Rose and Prince of Lies, and his short fiction has appeared in such anthologies as Shadows Over Baker Street and The Repentant. As an editor he's helmed over a dozen anthologies, including Curse of the Full Moon and the recent Smart Pop collection Triumph of the Walking Dead, and has directed book lines or series with subjects ranging from Arthurian Britain to zombies. His nonfiction writing on film and comics has seen print in Amazing Stories, Sci-Fi Universe, and the Smart Pop collections King Kong Is Back! and The Unauthorized X-Men.
Praise For Beyond the Wall: Exploring George R. R. Martin's a Song of Ice and Fire…
"Beyond the Wall is a compelling read and provides plenty of food for thought when considering Martin's writing . . . If you're a fan of the Song of Ice and Fire series, give Beyond the Wall a look. It's well worth the time."
GeekDad, Wired.com

"Beyond the Wall offers bracing takes on the ingrained sexism, brutal violence, and expectations for female characters in Westeros, while reminding readers that critical thinking is key . . . If you feel like some more insight into this crew of flawed, feral, fascinating characters will inform your [Game of Thrones] Season Three viewing, read onand good luck putting it down."
BiblioBitch, BitchMagazine.org

"A stunning array of talented creators and critics have been gathered into this scintillating essay collection of analysis/reactions to the world created by George R. R. Martin in A Song of Ice and Fire, and Game of Thrones."
The Midwest Book Review

"The essays are fascinating and insightful, thoughtful and thought-provoking, and as a whole the collection presents the complexity, depth and richness of Martin's creation . . . Highly recommended."
ScienceFictionWorld.com

"A must-have for any A Song of Ice and Fire diehard . . . Whether you be Stark or Lannister, Dornish or Dothraki, Beyond the Wall: Exploring George R.R. Martin's A Song of Ice and Fire is one book you can trust to feed your Thrones addiction until winter finally arrives."
FanboyComics.net

"If anything, this book itself proves that the series has turned academicians on their heads. Geeks, we are finally being legitimized . . . Anyone who is a fan of [A Song of Ice and Fire] should absolutely own this book."
Geekadelphia.com

"A great read for anyone who loves the books."
TVOvermind.com

"Beyond the Wall leav[es] you with plenty of food for thought but also leav[es] you thirsting for more. It's a great temporary antidote to the long wait Game of Thrones fans are undergoing, both for the third season and for the sixth book in the series."
TVRage.com
or
Not Currently Available for Direct Purchase