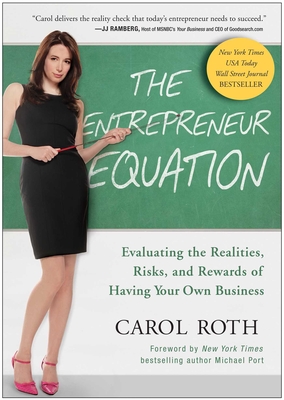 The Entrepreneur Equation (Paperback)
Evaluating the Realities, Risks, and Rewards of Having Your Own Business
Benbella Books, 9781936661862, 299pp.
Publication Date: March 6, 2012
Other Editions of This Title:
Digital Audiobook (5/25/2011)
Pre-Recorded Audio Player (9/1/2011)
Hardcover (3/22/2011)
MP3 CD (6/15/2011)
Compact Disc (6/15/2011)
Compact Disc (6/15/2011)
* Individual store prices may vary.
Description
It's time to drop the rose-colored glasses and face the facts: most new businesses fail, with often devastating consequences for the would-be entrepreneur. The New York Times, Wall Street Journal, and USA TODAY bestseller The Entrepreneur Equation helps you do the math before you set down the entrepreneurial path so that you can answer more than just "Could I be an entrepreneur?" but rather "Should I be an entrepreneur?". By understanding what it takes to build a valuable business as well as how to assess the risks and rewards of business ownership based on your personal circumstances, you can learn how to stack the odds of success in your favor and ultimately decide if business ownership is the best possible path for you, now or ever. Through illustrative examples and personalized exercises, tell-it-like-it-is Carol Roth helps you create and evaluate your own personal Entrepreneur Equation as you: - Learn what it takes to be a successful entrepreneur in today's competitive environment.
- Save money, time and effort by avoiding business ownership when the time isn't right for you.
- Identify and evaluate the risks and rewards of a new business based on your goals and circumstances.
- Evaluate whether your dreams are best served by a hobby, job or business.
- Gain the tools that you need to maximize your business success. The Entrepreneur Equation is essential reading for the aspiring entrepreneur. Before you invest your life savings, invest in this book

About the Author
Carol Roth helps businesses grow and make more money. An investment banker, deal maker and business strategist, she has helped her clients, ranging from solopreneurs to multinational corporations, raise more than $1 billion in capital, complete hundreds of millions of dollars in M&A transactions, secure high-profile licensing and partnership deals, create brand enthusiast programs and more. Roth is a frequent radio, television and print media contributor on the topics of business and entrepreneurship, having appeared on Fox News, MSNBC, Fox Business, WGN TV Chicago and more. Her Unsolicited Business Advice blog at CarolRoth.com was recently named as one of the Top 10 small business blogs online. Roth holds a B.S. from the Wharton School of Business at the University of Pennsylvania, where she graduated Magna Cum Laude. She resides in the Chicagoland area with her husband Kurt, who is also an investment banker (and her former business partner). They have no children, pets or plants and are avid sports fans (particularly of NFL football). Roth is also a recovering toy collector, recently trading in a portion of her collection for a more sophisticated toy (a "Simpsons" pinball machine).
Praise For The Entrepreneur Equation: Evaluating the Realities, Risks, and Rewards of Having Your Own Business…
"I get asked the question 'Should I start my own business?' all the time, and I've never known what to sayuntil now. Now my answer is: 'Read Carol Roth's The Entrepreneur Equation.' It's a no-brainer must-read for anyone who is even vaguely thinking of starting their own businessand should also be read by their significant others, friends and family.

I wish I'd had The Entrepreneur Equation available to me when I was running new venture incubation units worldwideI'd have insisted every single applicant for our program purchase and read the book before even thinking of coming on our programs.

In a sea of feel-good 'yes-you-can' books that lure people into mindlessly wasting their limited time and resources on business ideas that don't stand up, The Entrepreneur Equation stands alone as a masterly, compelling reality check that every would-be entrepreneur disregards at their peril."
Les McKeown, Author of The Wall Street Journal bestselling book Predictable Success and CEO of Predictable Success

"Aspiring entrepreneurs and small business owners alike can generate the best return on their success simply by investing their time reading The Entrepreneur Equation. Written in Carol's frank and fun style, this book gives you the key tools that you need to stack the odds of success in your favor."
Loral Langemeier, CEO/Founder of Live Out Loud, international speaker, and bestselling author of the Millionaire Maker 3 book series and Put More Cash In Your Pocket

"The Entrepreneur Equation is a best friend's advice, risk management handbook, and an entrepreneurs' pre-qualification checklist all rolled into one. It's communicated in a heartfelt anecdotal style by someone who has been 'in the trenches' and who truly cares about the people who aspire to be entrepreneurs. In typical fashion, Carol tells you what you need to know, then challenges you to take a hard look in the mirror before you make any decisions."
Paul Nizzere, Former CEO of Pelouze (Sold to Newell Rubbermaid) and CEO of Windsor Park, LLC

I wish I'd had The Entrepreneur Equation when I started my business. It would have saved a lot of time, stress, and heartache through the growth while I made a go of it alone. Carol Roth tackles the question, Even though I can be an entrepreneur, should I now or ever?' with irreverence and a much needed dose of reality. If you're thinking about starting a business, already running a business that is not profitable, or you haven't been able to take your business to the next level, this book is for you."
Gini Dietrich, Chief Executive Officer, Arment Dietrich, Inc. and author of Spin Sucks

"As an entrepreneur who's built a successful company with a bit of luck and a lot of perseverance, I know how important it is for business owners to have access to advice from someone like Carol. The Entrepreneur Equation will lead you down the right path, as you ask of yourself if you should be an entrepreneur and do a true self evaluation of your potential for success."
Percy Newsum, President, Integrity Toys

"Carol Roth leverages her experience as both an entrepreneur and a strategist for businesses to provide valuable and unique insights on entrepreneurship in today's business landscape. Whether you are an aspiring entrepreneur or even an existing business owner, The Entrepreneur Equation provides a roadmap to help you determine how and if owning your own business will help you achieve the American Dream."
Adam Kaplan, Chief Portfolio Officer, Banyan Mezzanine

Finally! Someone asks the million-dollar questionand then answers it. It isn't about CAN you be an entrepreneur? It is really about SHOULD you be an entrepreneur? You can spend thousands of dollars and years of your valuable life figuring it out. Or, you can read this book. Carol has been on all sides of entrepreneurship and objectively dishes out the cold, hard truthbut in a way that leaves you feeling confident and empowered! A must-read for all would-be and all could-be entrepreneurs."
Shama Kabani, Author of The Zen of Social Media Marketing and President of The Marketing Zen Group

"Having run a publicly traded company myself, I know that taking the time to create a strategy for success is critical. By reading The Entrepreneur Equation, you'll not only think differently about what entrepreneurship means for you, but also create an opportunity to get the best, most successful return on your investment. This book is a must-read for every would-be entrepreneur."
Harry Schulman, Past CEO of Applica, Non Executive Chairman of New Vitality, and Director of Amoena, Hancock Fabrics, and Backyard Leisure

"Whether you are starting a business or even re-evaluating your current business, The Entrepreneur Equation is the best investment that you can make. Having worked closely with Carol, the book perfectly mirrors her no-holds-barred style and conveys her genuine empathy and desire to see every entrepreneur succeed."
Laura Provenzale, Head of Consumer & Retail Investment Banking Group, Raymond James

"The Entrepreneur Equation is the reality check you need, plus the entrepreneur success toolkit you wanta must read!

In an era where ideas are heralded as the be-all-end all of business, the importance lies in execution. Carol gives readers a roadmap to transform their dreams into viable businesses, allowing both aspiring entrepreneurs and small business owners the BEST chance to build successful, profitable businesses."
Cameron Herold, Former COO of 1-800-GOT-JUNK? and CEO of BackPocketCOO.com

"Carol delivers innovative, rock-solid thinking that has the power to fix what is broken in business. The Entrepreneur Equation is a fresh new approach to what entrepreneurship really means today. Before you start or move forward with your business, read this book."
Liz Strauss, Business Strategist and online real-ebrity," LizStrauss.com, and Successful-Blog.com

"Having started more than a dozen businesses over the last three decades, my experience has been a mixed bag of successes and failures, exhilaration and depression. While most of my ventures have been successful, where they were not, there was always a perfectly valid reason (some might say excuse) for it. That's the reality of business that you need to understand.

In The Entrepreneur Equation, Carol will help you confront what it really takes to be an entrepreneur and run a business for success (because there are no guarantees). In this book you'll ask yourself the most relevant question of all, Is this for me?' Reading this book is a critical step for anyone considering starting a business or re-evaluating their current business."
Martin Chimes, Serial Entrepreneur, Former CEO of Corporate Express Australia, and Chairman of Unistraw International LTD

"Having built three businesses and advised countless entrepreneurs, I know for a fact that yesterday's advice won't help you grow a business today's rapidly-changing economy. If you want to succeed now and in the future, invest in the The Entrepreneur Equation."
Barry Moltz, Serial entrepreneur, speaker, and author of Bounce!

"Since I don't believe in traditional book endorsements, here's my Un-Endorsement": If you are sick of the b.s.-filled, fluffy feel-good books that promise ten steps to success (but never deliver), you will find real value in The Entrepreneur Equation. Frank, refreshing and credible, this book shows that entrepreneurship is not a one-size-fits-all journey and gives you real, practical information to help you succeed."
Scott Stratten, President of Un-Marketing and author of UnMarketing: Stop Marketing. Start Engaging.
or
Not Currently Available for Direct Purchase