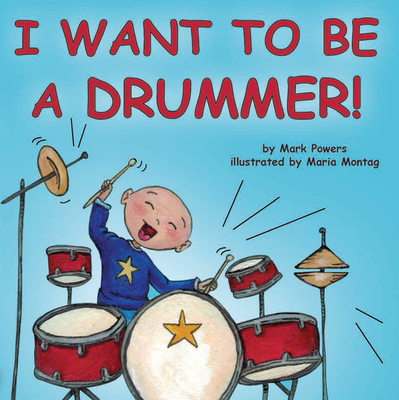 I Want to Be a Drummer! (Board book)
blue manatee press, 9781936669509, 14pp.
Publication Date: September 1, 2016
* Individual store prices may vary.
Description
Daniel wants to be a drummer, but he doesn't have any drums. Little readers can help him find items around the house to build his drum set. After Daniel finds the musicality in everyday objects he discovers at home, children will have fun creating their very own drum set. A fun reminder that the joy of making music can be found anywhere.
About the Author
Mark Powers visits schools across the country, facilitating a variety of drum, world music and alternative percussion workshops. He teaches students how to use "found sounds" to create music from common everyday items.  He resides in Portland, Oregon. Maria Montag is an artist from Cincinnati, Ohio.
Praise For I Want to Be a Drummer!…
"Mark and Maria did a really lovely job with this adorable book . . . It does go a long way to inspire children to search for musical notions in everyday household items." —Todd Sucherman, drummer, Styx
"I love the gentle encouragement to create your own drum set out of found items around the house. Perfect for rainy/cold days playing indoors." —Lola Snyder, Head of Youth Services, Jackson County Public Library, Seymour, IN
"The beauty of I Want to Be a Drummer! is that it reminds readers of all ages that the joy of making music can be found anywhere . . . you just have to look around you and experiment. I highly recommend this storytime book for your young one." —Bart Elliot, drummercafe.com
"A simple introduction to a favorite musical instrument." —Kirkus Reviews
"For every little one who has made a pot into a drum and a couple spoons into drumsticks, here is a book they'll love and can relate to!" —Regina LaCaruba, diapers-and-daydreams.com
"I Want To Be A Drummer provides a wonderful account of the spirit of creativity and ingenuity that manifests in young musicians, and percussionists in particular. The book is a warm and elegant illustration of how many--if not most--of the world's greatest drummers get their start." —Joe Wong, host and producer, The Trap Set with Joe Wong Podcast
"I Want to Be a Drummer! is a beautifully written and illustrated book that teaches young children how to problem-solve. It's a wonderful addition to my preschool classroom's library!" —Sheryl Cooper, preschool teacher and writer, Teaching 2 and 3 Year Olds