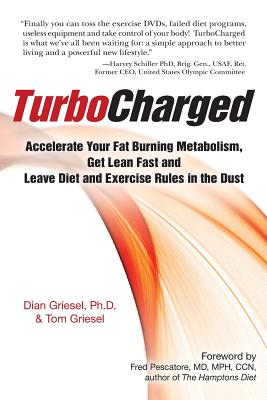 Turbocharged: Accelerate Your Fat Burning Metabolism, Get Lean Fast and Leave Diet and Exercise Rules in the Dust (Paperback)
Accelerate Your Fat Burning Metabolism, Get Lean Fast and Leave Diet and Exercise Rules in the Dust
Business School of Happiness Inc., 9781936705009, 226pp.
Publication Date: March 21, 2011
About the Author
DIAN GRIESEL, Ph.D., 50, is a serial entrepreneur and long recognized health spokesperson. Dian has advised biotechnology, pharmaceutical and high technology companies for over fifteen years via her company The Investor Relations Group, an award winning corporate communications firm. Dian lectures and writes on a variety of subjects. She is a lifetime member of the International Association of Counselors and Therapists as well as the National Guild of Hypnotists. She has served on the Board of the New York Chapter of the American Heart Association. Dian has appeared in thousands of media outlets and in the early 1990s was a regular health expert on the Sally Jessy Raphael Show, Gordon Elliot, Jenny Jones, Montel Williams, Rolanda Watts, Good Day New York and 1010 WINS News. She has worked in private practice and taught continuing education for weight loss and stress management at the NY Open Center and the City University of NY. In the 1980s, Dian was co-partner at Spotlite Marketing, a division of Spotlite Entertainment, where she worked on sponsorship deals for Jay Leno, Jerry Seinfeld, and other top tier acts. Today Dian lives in Connecticut, with her husband and their two young children. TOM GRIESEL, 56, is the older brother of Dian and a true Renaissance man. His enthusiasm for process has followed him throughout life. Tom didn't just do triathlons--he trained, customized gear and hand-assembled the bike he rode on. He is passionate about understanding how and why things work the way they do. This curiosity has compelled him to study health, wellness and longevity for over 30 years. His lifetime interest in fitness, health and meditation has resulted in him becoming a Reiki Master as well as learning and regularly practicing Transcendental Meditation for over 20 years. He is one of the very few fitness personalities who can actually demonstrate many impressive physical feats including 80+ push-ups in record time. Prior to this book, Tom worked as a banker, financing pharmaceutical, biotechnology and other high tech companies. In early 2010, he retired to finally live his dream of consulting and writing about wellness, fitness and fat loss. Today, Tom spends his time with his wife of 30+ years, living in Arizona, California and Connecticut.
Advertisement