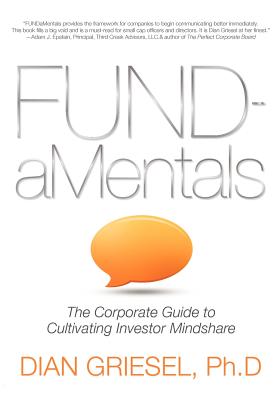 Fundamentals (Paperback)
The Corporate Guide to Cultivating Mindshare
Business School of Happiness Inc., 9781936705016, 280pp.
Publication Date: December 7, 2012
* Individual store prices may vary.
Description
If you are eager to convey your company's value to potential investors, FUNDaMentals Shares the Rules You Need to Follow for Success. Over the last 20 years, Dian Griesel, Ph.D. has attended thousands of one-on-one meetings with fund managers. She has also helped CEOs of hundreds of public companies improve how they communicate the information that investors need to know prior to making a financial commitment. In FUNDaMentals, Griesel gathers the insights she has gained from working directly with the investment community and company executives-and presents them in an engaging and accessible guidebook format. Griesel's promise to readers: If you adopt the lessons outlined in this book, alone or with other members of your management team, you will have significantly greater odds of success in raising the money you need to take your company to the next level. In this guidebook you will learn HOW TO: - Establish and maintain the best possible relationships with investment professionals - Implement an array of management strategies that investors seek and require - Perfect your company's 50-word descriptor and "elevator pitch"-both vital tools for grabbing investors' attention - Write a compelling, carefully conceived, up-to-date business plan - Assemble and maintain a coordinated, mutually supportive management team - Gather mandatory due diligence information-before you need it - Use road shows as an effective and rewarding way to establish beneficial relationships within the investment community - Gain favorable media attention via more effective news releases - Harness the power of social media to strengthen your company's influence Read FUNDaMentals and give your company a major advantage in gaining the attention-and the financial support-of the investment community.
About the Author
Dian Griesel, Ph.D. is founder and president of Dian Griesel, Inc. (DGI), a full-service, integrated corporate communications firm. Its pre- decessor company was The Investor Relations Group, which she founded in 1996 and ran for 17 years. Dian is known as a thought-leading provo- cateur. Clients and the media seek her candid perspective and practical advice on a variety of projects, situations and personal circumstances. In addition to this book, Dian is the author of several bestselling business, lifestyle and health books including Engage: The New Rules for Integrated Communications; Capitalization Success; UNCAPPED: The CEOs Guide to a Bigger and Better Marketcap; and, The 101 Platinum Plus Rules of Media Engagement. She is co-author of the four-book TurboCharged(R) series of health books and downloads, including: TurboCharged: Accelerate Your Fat Burning Metabolism, Get Lean Fast and Leave Diet and Exercise Rules in the Dust; The TurboCharged Mind: Eliminate Bad Habits with Hypnosis; Turbocharged Recipes: Delicious Fuel for Your Fabulous Fat Burning Machine; and, The TurboCharged Sidekick. Dian is endlessly fascinated by how we each hear, interpret, project and act upon our thoughts as well as with the resulting thoughts and actions of others in response. As such, besides guiding corporate officers through their messaging and marketing challenges, she is also a lifetime member of the International Association of Counselors and Therapists as well as the National Guild of Hypnotists. Dian has served on several boards including the New York Chapter of the American Heart Association and Rumsey Hall School. Starting in the early 1990s, Dian began appearing on a variety of day- time talk shows as an expert guest and today is a regular business, public relations, and health commentator for ABC television affiliate WTNH. Throughout the 1980s, she worked in entertainment, first with her own company Stand Up and Rock, a comedy entertainment booking agency on the college circuit, and then as co-partner of Spotlite Marketing, a division of Spotlite Entertainment. She was fortunate to work with the legendary Robert Williams and had the opportunity to market corporate sponsorship deals for his clients Jay Leno, Jerry Seinfeld, Yakov Smirnoff and many other top-tier entertainment acts. She is happily married and a mother of two. For more information, Google her or go to www.DGIcomm.com