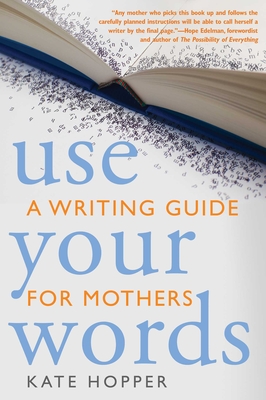 Use Your Words
A Writing Guide for Mothers
Paperback

* Individual store prices may vary.
Description
Use Your Words introduces the art of creative nonfiction to women who want to give written expression to their lives as mothers. Written by award-winning teacher and writer, Kate Hopper, this book will help women find the heart of their writing, learn to use motherhood as a lens through which to write the world, and turn their motherhood stories into art. Each chapter of Use Your Words focuses on an element of craft and contains a lecture, a published essay, and writing exercises that will serve as jumping-off points for the readers' own writing. Chapter topics include: the importance of using concrete details, an overview of creative nonfiction as a genre, character development, voice, humor, tense and writing the "hard stuff," reflection and back-story, structure, revision, and publishing. The content of each lecture is aligned with the essay/poem in that chapter to help readers more easily grasp the elements of craft being discussed. Together the chapters provide a unique opportunity for mother writers to learn and grow as writers.
Use Your Words takes the approach that creative writing can be taught, and this underscores each chapter. When students learn to read like writers, to notice how a piece is put together, and to question the choices a writer makes, they begin to think like writers. When they learn to ground their writing in concrete, sensory details and begin to understand how to create believable characters and realistic dialogue, their own writing improves. Use Your Words reflects Kate's style as a teacher, guiding the reader in a straightforward, nurturing, and passionate voice. As one student noted in a class evaluation: "Kate is a born writer and teacher, and her enthusiasm for essays about motherhood and for teaching the nuts and bolts of writing so that ordinary mothers have the tools to write their stories is a gift to the world. She is raising the value of motherhood in our society as she helps mothers build their confidence and strengthen their game as writers."
Praise For Use Your Words: A Writing Guide for Mothers…
"It doesn't matter if you only want to write for yourself or for publication. If you have written before or never have. This book can teach you how to do it or how to do it better."
Simple Wyrdings

"Hopper has packed her book full of excerpts both heart-warming and painful, by well-published authors who resist the temptation to sugarcoat the endless tortuous pleasure of being a mom. Writers who've established a literary career and then birthed or adopted children will find comfort in the excerpts and quotes from women who've contributed to Use Your Words. Mothers who find themselves drawn to writing about their family will find the book extremely useful. Final chapters examine how to publish, and how to balance a professional writing life that's also rich with parenting, household and work duties."
Literary Duck Blog

"Unlike some writing resources that can come off as somewhat condescending, Hopper's voice is approachable and kind, making this an easy read with clear lessons. The tone is perfectly balanced for those with a wide range of writing experience and ability. Established writers will be reminded to return to and strengthen the basics and those without any formal training will find lessons that are quick to grasp and, with practice, will improve the quality of their work. I found immediate inspiration from Use Your Words to work on my own projects and gratification when Hopper's approach helped me to see areas that I could further develop. Hopper's stated goal is to increase the legitimacy of narratives told by mothers. It seems clear that she wants you to succeed in telling your story and uses a gentle hand to push you to dig deep in order to do so."
Blogcritics

"Many of us mama-bloggers have stumbled into our particular subject matter without giving much thought to what we are doing. Luckily for this second-rate Erma Bombeck, the lovely, smart, thoughtful writer Kate Hopper has just published Use Your Words: A Writing Guide for Mothers, which offers great guidance for writing about your family."
Redbook

"Kate dares to remember her own motherhood. She dares you, gently, to own your own words, to realize that you are the only one who can tell your story. Using pieces of her own story as well as perfectly chosen excerpts from assorted mother-writers, Kate has crafted a rare book that calls you to action as a writer and mother and, yes, WITNESS of your own life, of the lives around you. The writing prompts are simple, powerful and compelling. I found myself engaged, completely, in the prose. I'd been stuck for months, my own writing stale and frustrating. A week with Kate's book and I'd filled a notebook of my own. Her words loosened something in me, as a writer and a mama. I'm grateful for her, and grateful for her courage to document her own amazing path in life. So get inspired. Your story? Guess what: it matters. And Use Your Words: A Writing Guide for Mothers will get it out of you and on the page. No kidding. Pick it up. Start anywhere, if that's less scary. Pick a prompt, and go."
Breed 'em and Weep

"Kate Hopper puts her expertise as a writer with a MFA in creative writing, Literary Mama editor, blogger, Loft Literary Center instructor, and mother to good use in a guide meant to be underlined, highlighted, reread, bookmarked, carried around, shared, by countless mothers."
Small Press Reviews

"I can see using this over and over. It is not paced to be read in one sitting. It's more of a workbook that will only help if you sit down and try it....do the prompts. Interact with the essays. Make notes. And go back and do it again."
The Black Sheep Dances

"Kate Hopper is a seasoned mother, writer and teacher at the highly recommended and respected Loft Literary Center in Minneapolis. Her book, Use Your Words is a unique instruction manual for the mother-writer that wants to write about life and herself through the lens of motherhood. Maybe that's through a blog or for magazines or a memoir, but whatever the case, I want you to know, this book will help you become the writer you dream of being. It will take you from the beginning to the end of your process with grace and humor. I don't know about you, but I need direction, a coaxing of sorts, to stay focused on a project. That is exactly what Use Your Words will do for me, and for you."
The Extraordinary Ordinary

"An excellent resource[Kate Hopper] probes you to think further, while teaching you how to do it. I really enjoyed this book and will reach for it repeatedly to help me in my own memoirs."
Planet Weidknecht, the blog of Lisa Weidknecht

"Kate Hopper is warm, encouraging and someone who knows her stuff For mothers looking to publish or just make sense of a story gestating in their heads, Use Your Words is a good place to start."
Brain, Child

"Finally a book to teach parents how to write! In readable, interesting, practical prose, Use Your Words gives moms what they need to know to write about their children's most precious moments. A tremendous resource for bloggers, teachers, lay and professional writers."
Jennifer Margulis, Ph.D., author of Toddler: Real-Life Stories of Those Fickle, Irrational, Urgent, Tiny People We Love

Kate Hopper has been a valuable part of our teaching staff since 2006. Her students rave about her, calling her a wonderful teacher.' She always makes her students feel that their writing is valuable and that their work is important work. She is accessible and friendly and always enthusiastic and supportive of her students. She has contributed to the success of the Loft Literary Center! Her Loft students have said, I loved Kate as an instructor! She was so encouraging and supportive of everyone's efforts, but also very knowledgeable about the craft of writing, as well as prose revision. I would take another class from her in a minute,' and I've taken many writing classes, and this class was the most supportive, helpful class I've ever had, while still giving extremely helpful critique.' Kate has so much to share and so many helpful writing exercises."
Brian Malloy, Education Director, The Loft Literary Center

"Turning personal experience into readable prose is a daunting process for anyone, and carving out the time to do so isn't easy with a house full of short people in need of constant attention. In Use Your Words, Kate Hopper offers a practical and accessible roadmap for any mother who'd like to get started. Part instructor, part motivator, part best friend, Kate guides mother-writers from idea through finished product, offering encouragement and hard-earned wisdom along the way. She intersperses poems, essays, and short memoirs by known writers such as Cecelie S. Berry, Judith Ortiz Cofer, and Chitra Divakaruni--and emerging writers from The Loft Literary Center in Minnesapolis--with passages about the craft of writing, and ends each chapter with helpful, short exercises for readers to try at home. Any mother who picks it up and follows the carefully-planned instructions will be able to call herself a mother-writer by the final page."
Hope Edelman, best-selling author of MOTHERLESS DAUGHTERS

"The only reason I've ever wanted to visit Minnesota was for the chance to meet Kate Hopper and take one of her writing classes. Thankfully, Kate has translated her successful USE YOUR WORDS writing class onto paper and created a personal, practical guide for any mother writer. Grounding each lesson with terrific essays and poems by a wide variety of writers, Kate offers a solid education in creative writing plus a range of approachable assignments, designed to make readers put the book down and start writing."
Caroline Grant, Editor-in-Chief of Literary Mama and Co-editor of Mama, PhD: Women Write About Motherhood and Academic Life

Kate Hopper knows: how to inspire the budding writer to find her voice and her truth; what it takes to keep that same writer going; and the words of advice and inspiration every writer needs to hear. In Hopper's assured, experienced hands, women and mothers will glean not only the all-important elements of craft, they will feel emboldened and prepared to take the essential steps from idea to finished piece. This is a beautiful, polished guide to craft and story telling for writing about motherhood and beyond."
Vicki Forman, author of This Lovely Life: A Memoir of Premature Motherhood

"USE YOUR WORDS brings a unique voice to the world of writing guides: honest, forthright, funny. Reading it felt to me no different than sitting down to have a writing tete-a-tete with a literary friend and practicing writer. Because it is real, the voice welcomes beginners with trustworthy invitations to reach deep, and it also speaks to the practicing writer with new levels of insight about writing motherhood literature. It's totally original in that it covers the specific areas where the experience of motherhood firesand complicatesthe task of writing. (fear, etc). I think really Kate, whether you intended this or not, the true brilliance of USE YOUR WORDS is voice. When a teacher/author takes a risk with voice and really bares herself, her students/readers can do no less than rise to the same challenge. I think of the hilarious scene with the agent, and the really lovely structural modeling you did too of framing a large section of your book with Mimi and the Vanda. Also! The book is funny! I thought I was reading it just for funbecause I knew it would be funand the surprise for me was the spur in the ribs I got to write and write well."
Bonnie Rough, author of Carrier: Untangling the Danger in my DNA

Part writing workshop, part anthology, part mothers' group between two covers, Use Your Words is so much more than an instruction manual. It is also a readable, powerful call to the page for every woman in the process of giving birth to herself as a writer. If you have ever wondered whether motherhood is a viable literary subject, or whether you have a mothering story worth telling, Kate Hopper's beautifully written book will answer that question once and for all with compelling excerpts, exercises to inspire you, and clear, practical teachings on matters of voice, structure, and style."
Katrina Kenison, author of The Gift of an Ordinary Day and Mitten Strings for God

Kate Hopper's Use Your Words demonstrates how the universal experiences of motherhood can be transformative through storytelling, and offers practical, thoughtful, and insightful guidance to any writer interested in the process of translating life experience into story."
Andrea Buchanan, author of The Daring Book for Girls, Mother Shock: Loving Every (Other) Minute of It, and six other books
Viva Editions, 9781936740123, 256pp.
Publication Date: April 17, 2012
About the Author
Kate Hopper teaches writing online and at The Loft Literary Center in Minneapolis, where she lives with her husband and two daughters. Kate holds an MFA in creative writing from the University of Minnesota and has been the recipient of a Fulbright Scholarship, a Minnesota State Arts Board Grant, and a Sustainable Arts Grant. Her writing has appeared in a number of journals, including Brevity, Literary Mama, and the New York Times online. She is an editor at Literary Mama. For more information about Kate';s writing and classes, visit www.katehopper.com.
or
Not Currently Available for Direct Purchase