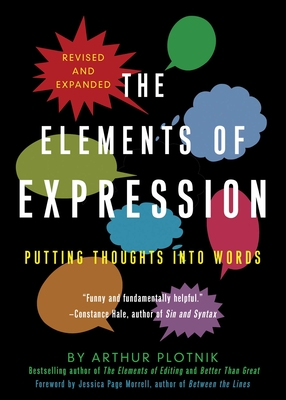 Elements of Expression
Putting Thoughts into Words
Paperback

* Individual store prices may vary.
Other Editions of This Title:
Digital Audiobook (7/9/2012)
Compact Disc (7/1/2012)
MP3 CD (7/1/2012)
Compact Disc (9/11/2012)
Description
More than ever in this completely updated edition, The Elements of Expression helps word users "light up the cosmos or the written page or the face across the table" as they seek the radiance of expressiveness--the vivid expression of thoughts, feelings, and observations. Nothing kills radiance like the murky, generic language dominating today's talk, airwaves, and posts. It tugs at our every sentence, but using it to express anything beyond the ordinary is like flapping the tongue to escape gravity.

The Elements of Expression offers an adventurous and inspiring flight into words that truly share what's percolating in our minds. Here writers, presenters, students, bloggers--even well intentioned "Mad Men"--will discover language to convey precise feelings, move audiences, delight and persuade. No snob or scold, the acclaimed word-maven Arthur Plotnik explores the full range of expressiveness, from playful "tough talk" to finely wrought literature, with hundreds of rousing examples. Confessing that we are all "like a squid in its ink" when first groping for luminous expression, he shines his amiable wit on the elements leading, ultimately, to language of "fissionable intensity."
Praise For Elements of Expression: Putting Thoughts into Words…
"The second edition of Plotnik's neat little guide to writing comes at a good time in historywith more people communicating electronically than ever before, it often seems that grammar, spelling, and the sheer ability to express one's thoughts clearly are all under assault. Elements of Expression offers tips on how to write and speak in an engaging and effective manner. More than a grammar guide, this should find a place in most libraries and will be appreciated by both the casual blogger and professional writer."
Booklist


"The Elements of Expression offers an adventurous and inspiring flight into words that truly share what's percolating in our minds. Here writers, presenters, students, bloggerseven well intentioned "Mad Men"will discover language to convey precise feelings, move audiences, delight and persuade."
Gotham Writer's Workshop

"What Plotnik is concerned aboutno, make that fervent, ardent, zealous, even fanatical aboutis making the language of the written word as interesting and precise as possible. . . . engrossing, unpredictably original . . .[conveying] the . . . specific thought in one's head. . . . Twelve, sixteen, twenty years of schooling, inundated by verbiage every day, and we can't speak our hearts," he notes. . . . Plotnik's effort fulfills the writer's hope for such a bookto weather well on the shelf, from whence it can be plucked at moments of needed inspiration or dread perspiration, and skimmed, flipped through, thumbed."
Foreword Review

"The Elements of Expression is heartily recommended as an excellent reference book or to circulate as a fun yet instructive read for everyone who endeavors to communicate effectively."
The Unabashed Librarian

"The Elements of Expression is best taken a chapter at a time, with thought given to the author's points. The strongest parts of the book contrast insipid or ordinary modes of expression with clear, powerful methods. This is where the work shines."
The New York Journal of Books

"In the blues anthem from 1970, Charles Wright and the Watts 103rd St. Rhythm Band, sang "Express yourself, express yourself..." and the whole world listened. I hope they're listening now because Arthur Plotnik's The Elements of Expression will make you want to sing out as well. It is chock full of clear and concise advice about how to provide a blood infusion for our tired vocabularies so we can be as bold and funky as possible whenever we express ourselves."
Phil Cousineau, author of Wordcatcher and The Painted Word

"Arthur Plotnik's Elements of Expression first makes the case for better expression more varied, lively, forceful, and interesting both verbal and written. Then he shows us how to achieve that. Loaded with examples from Plato to rap, this book sparkles with wit, insight, and a love of words evident on every page. A gem."
Nancy Kress, author of Beginnings, Middles, and Ends

"This is a perfect book for lovers of language or for anyone who has ever struggled to find the right word to express the nuances of human experience. Plotnick's The Elements of Expression>/i> is smart and funny and rich with the history of language. This book will help any reader freshen their speech and purge it of the well-worn clichéd patterns of our time and stale mainstays such as awesome" and amazing."
Kate Hopper, author of Use Your Words: A Writing Guide for Mothers

"I just love this book. Arthur Plotnik is great fun to read, and in The Elements of Expression, he's given me hope that the horrible, fruitless fumbling for the right words" that torments so many writers needn't be the death knell of nimble, beautiful expression."
June Casagrande, author of It Was the Best of Sentences, It Was the Worst of Sentences


"Plotnik succeeds where many writers fail. He not only enlightens, he entertains. To be guided by such a sure and steady hand is a delight. The Elements of Expression is more than a guidebook. It's a romp through the ever-changing trends of taste and style that shape our use of English, that great drifting sponge of a language." It's a linguistic expedition from choice written English" to ear acceptable idiom," from antiquity to the present, from the figures of speech and the classic advice of Longinus to the comic rhythms of Saturday Night Live, along with warnings along the way against becoming benumbed by daily overdoses of media and message" and insights into how good writers mix high and low for the most original effects" and observations about how simple conviction" isn't enough: It takes a certain controlled elevation of one's natural voice, language that stands on its toes but doesn't leave the ground." If you think this book is a stodgy treatise on elocution and elegance, I'd like to disabuse you of that notion. The scope of Plotnik's frame of reference is breath-taking."
Stephen Wilbers, author of Keys to Great Writing

"With sincerity, humor, and the occasional precision-lobbed grenade," Arthur Plotnik teaches by example in The Elements of Expression In urging us to shun generic writing and optimize value in our word choices, Plotnik joyfully demonstrates dozens of ways we can abuse" English to add interest and tension to dozy proseall without forsaking authenticity and restraint."
Carol Fisher Saller, The Subversive Copy Editor and Eddie's War

"In Elements of Expression, Arthur Plotnik covers it all: word choice, style, usage, syntax, and the difference between them. What's more, he does it in a way that is funny and fundamentally helpful. To plunge into the pages of this book is to cast away doubt. Trade your hemming and hawing for a surefooted sense of how to write with power and authenticity. If you, too, suffer from language anxiety," help is on the way. Arthur Plotnik delivers a dose of easy-to-digest information that will help you put your thoughts into shimmering words.In Elements of Expression, Arthur Plotnik takes opaque ideas about writing and rhetoric and puts them into plain English you can understandand use. I'd love this book even if I didn't love this stuff. Let Elements of Expression turn you into a more confident writer, and turn you on to the joy (and relief) of getting what's inside outside."
Constance Hale, author of Sin and Syntax and Vex, Hex, Smash, Smooch

"It's impossible to summarize all the ground this volume covers; however, it's just what a reference book should be: meaty, thoughtful, layered, and inspiring. As you read along, expect hidden cogs in your brain to lurch into motion and your fingers to twitch, eager to jot down fresh phrases. This urge is helped by the author constantly goading readers to go forth and raid the countryside for language like modern-day cattle rustlers."
Jessica Morell, author of Between the Lines
Viva Editions, 9781936740147, 240pp.
Publication Date: June 12, 2012
About the Author
Arthur Plotnik is a versatile author with a distinguished background in editing and publishing. Among his seven previous books (not to mention 22 pseudonymous potboilers early in his career) are The Elements of Editing and The Elements of Expression, both Book-of-the-Month Club selections, and the best-selling Spunk & Bite: A Writer's Guide to Bold, Contemporary Style. His articles, op-eds, and literary pieces have been published widely, including his columns in The Writer magazine, on whose editorial board he serves.Plotnik studied under Philip Roth in the Iowa Writers Workshop, was a reporter for the Albany (N.Y.) Times-Union, and after earning a second graduate degree, worked as a Library of Congress staffer in Washington and magazine editor in New York. He received numerous honors and awards as a long-time editor and publisher with the American Library Association in Chicago. He lives in that city with his wife and an avalanche tumble of jottings for Better than Great.
or
Not Currently Available for Direct Purchase