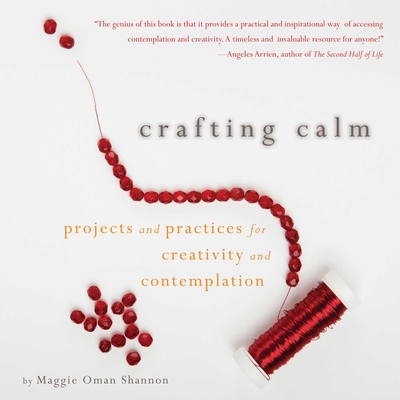 Crafting Calm
Projects and Practices for Creativity and Contemplation
Paperback

* Individual store prices may vary.
Description
In this wired, wild world, it is harder than ever to shut out noise and busyness in order to truly calm yourself, but in Crafting Calm, a D.I.Y. guide to peace of mind, you'll find inspiring ideas for how to do exactly that through a wide range of creative exercises. In this book, author Maggie Oman Shannon explores crafts and creativity as a practice with enormous physical, mental, and spiritual benefits. By immersing ourselves in a craft with intention and mindfulness, we can quiet those voices around us and in us--we can enter sacred stillness. Through revealing interviews, personal stories, and forty suggested activities, the author shows how creative processes can become spiritual practices. Whether you're an aspiring artist, longtime craftsperson, or someone who has never set foot in a craft-store (yet!), you'll find something in Crafting Calm to inspire you.
Crafts and how-to ideas include contemplation candles, visual journals, prayer shawls, collage mandalas, intention beads, finger labyrinths, personal prayer flags, spiritual toolkits, and tabletop altars.
Features inspired craft ideas from luminaries such as Angeles Arrien, Mary Ann Radmcher, Shiloh Sophia McCloud, Sister Marianne Heib, May Ann Brussat, and many more.
Praise For Crafting Calm: Projects and Practices for Creativity and Contemplation…
"Oman Shannon (Prayers for Healing), a San Franciscobased interfaith minister, finds spiritual calm through creating, and this collection of stories, journal prompts, inspirational quotes, and craft projects is designed to help others find their own inner peace. The author's focus is on the Christian faith, but she includes anecdotes from crafters from other faith traditions, including Judaism and paganism. The projects are fairly simple, and all focus on bringing spirituality, prayer, or meditation into the mix. The intersection of crafts and spirituality is a popular topic, and Oman Shannon's exploration will inspire crafters of a variety of faiths."
Library Journal

"In Crafting Calm, Oman Shannon shares a variety of creative activities, stories and resources that help readers relax, comfort ourselves, get clarity and connect with others. Ultimately, connecting to our creativity can help us connect to our spirituality. In other words, crafting can become a spiritual practice."
Psych Central

"Maggie Oman Shannon is an enthusiastic guide through all these project possibilities. She often shares about her personal attempts with different crafts, openly admitting that some things are just not for her. We were relieved by this . . . and encouraged to try some new things anyway! Crafting Calm is a practical resource we're sure you will enjoy dipping into when you feel inspired or are looking for inspiration."
Spirituality & Practice

"Crafting Calm was a revelation to me! Over the years I have enjoyed many of the crafting activities highlighted in Maggie Oman Shannon's wonderful book. However, it was only after reading Crafting Calm that I understood the connection between creativity and the divine. Oman Shannon's book helped me see that what I previously viewed as fun and satisfying, actually provides spiritual nourishment for my soul."
June Cotner, author of the bestselling Graces

"The genius of this book is that it provides a practical and inspirational way of accessing two universal essential forces that sustain the human spirit: contemplation and creativity. A timeless and invaluable resource for anyone!"
Angeles Arrien, author of The Second Half of Life: Opening the Eight Gates to Wisdom

Awaken and illuminate your creative and spiritual connections with Crafting Calm: Projects and Practices for Creativity and Contemplation. Nourish yourself and others with this practical, elegant, deeply inspiring book. The title alone will uplift your spirits!"
SARK, author, artist, Succulent Wild Woman PlanetSARK.com

"One of the central challenges of any spiritual path is the need to weave the moments of insight
that come from inner practice into the fabric of everyday life. Maggie Oman Shannon's new book
Crafting Calm draws on time-honored handicraft traditions to do exactly this, providing a rich
toolkit of approaches for the modern spiritual seeker."
-- John Michael Greer, Grand Archdruid of the Ancient Order of Druids in America and author of
Apocalypse Not: Everything You Know About 2012, Nostradamus, and the Rapture is Wrong

As a lifelong artist, I am intimately familiar with the profound connections to spirit that are available to us when we engage in creative acts. Despite already knowing this deep in my heart, mind and body, I relish the opportunity to learn the way my artistic tools, techniques and mediums can open up specific spiritual channels and encourage an array of mindful, prayerful practices. I look forward to adding Crafting Calm to my bookshelf and sharing it with my artistic and spiritual sisters."
Christine Mason Miller, Artist and Author of Ordinary Sparkling Moments: Reflections on Success and Contentment

"In Crafting Calm, Rev. Maggie Oman Shannon gently reminds that we are by our very nature, both spiritual and creative beings. She inspires us to create as a way of self-exploration and spiritual growth and guides us through fun and illuminating projects. From anointing oils to visual journals and prayer paintings to messages in bottles Oman Shannon shows us how crafting can be part of our spiritual journey and a powerful way to connect to our very essence -- the creative spirit within all of us. This book will inspire, uplift and illuminate your spiritual path in a unique and important way and you'll also discover how much fun you can have when creating from spirit."
Polly Campbell, Author of Imperfect Spirituality: Extraordinary Enlightenment for Ordinary People

"During these tumultuous times it is more important than ever to cultivate our calm. Maggie Oman's Crafting Calm is a balm of a book that teaches us this subtlest of lessons."
Phil Cousineau, author of Wordcatcher and The Painted Word

"Crafting Calm is the perfect gift for anyone who has ever had the urge to create. Maggie Oman Shannon's writing is engaging and accessible, making her the ideal guide for those interested in embracing calm, deepening self-awareness, and renewing faith in the power of creativity."
-Kate Hopper, author of Use Your Words: A Writing Guide for Mothers and Ready for Air: A Journey Through Premature Motherhood

"I still have pictures in my head of my Mom sitting and knitting in the pre-television days of my youth. It was a peacefulness scene seeing her take a meditative moment out of her household responsibilities. Today, in our non-stop world of ever-present text messages and emails, it is nice to have a book like this to help us both quiet our mind and enrich our life, as the simple art of knitting did for my Mom. So, put down your cell phone, pick up this wonderful book, and begin creating your own comforting handiwork from Crafting Calm."
-Allen Klein, author of The Art of Living Joyfully and Words of Love
Viva Editions, 9781936740406, 288pp.
Publication Date: April 16, 2013
About the Author
Maggie Oman Shannon is a spiritual director and writer. She is the author of One God, Shared Hope and The Way We Pray, editor of Prayers for Healing and coauthor of A String and a Prayer. She lives in San Francisco.
Mary Anne Radmacher is a writer and an artist. She conducts workshops on living a full, creative, balanced life, teaches Internet writing seminars, and works with individual clients. She has been writing since she was a child, and she uses her writing to explore symbols and find meaning. Among her special honors she counts the respect of her peers and the friendship of children. She is the author of Lean Forward into Your Life (Conari Press, 2007), and Live Boldly (Conari Press, 2008). She lives with her husband near Seattle, Washington. Visit her online at www.maryanneradmacher.com or www.maryanneradmacher.net.
or
Not Currently Available for Direct Purchase