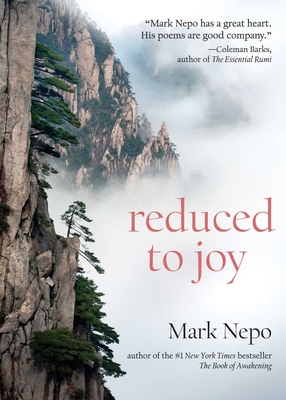 Reduced to Joy (Paperback)
Viva Editions, 9781936740574, 156pp.
Publication Date: August 13, 2013
* Individual store prices may vary.
Description
Mark Nepo is emerging as one of the truly significant writers and thinkers of today. Nepo has a singular way of distilling great truths down to their essence. Moreover, during his cancer journey, Nepo relied on the power of expression and the writing process to keep him tethered to life. In Reduced to Joy, Mark Nepo explores the places where pain and joy are stitched to resilience, uncovering them with deep wisdom, poetic passages and personal revelations. Nepo reminds us all of the secret and sacred places within, forgotten in the noise and chatter of our busy distracted 21st Century lives. Reduced to Joy is a lesson in stillness, in standing in the mystery and, above all, in the work of love.
About the Author
Mark Nepo is a poet, philosopher and author of thirteen books including the "New York Times" bestseller "The Book of Awakening. " A highly popular workshop leader, Nepo travels internationally. He lives and writes in southwest Michigan. Harvard Divinity School graduate Wayne Muller has been a therapist, minister, community advocate, consultant, public speaker, and bestselling author of "A Life of Being, Having," and "Doing Enough; Legacy of the Heart and Sabbath." He lives in Santa Fe, NM.