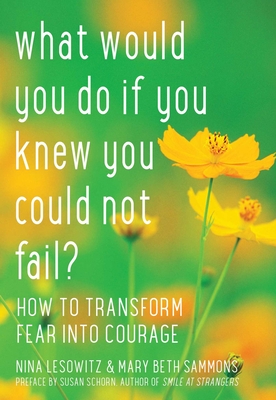 What Would You Do If You Knew You Could Not Fail (Paperback)
How to Transform Fear Into Courage
Viva Editions, 9781936740710, 263pp.
Publication Date: December 17, 2013
Description
"What would you do if you know you could not fail?" These words, attributed to First Lady Eleanor Roosevelt, have inspired tens of millions to face their fears and dare to follow their hearts. This can-do compendium is a veritable tool kit for transforming readers from reticent to role model."--From the authors of Living Life as a Thank You, this volume present true stories of ordinary people with extraordinary fortitude. Authors Mary Beth Sammons and Nina Lesowitz have gone to the front lines of adversity and fear to surface the brave hearts who took action before they were forced to, confronting and overcoming their fears in inspirational ways. From world-class athletes, to spiritual teachers, to cancer patients, to ordinary people who took extraordinary action to transform their lives, these courage warriors teach readers to turn apprehension into action. Enriched with motivational quotes and power practices, this courage guidebook advises how to live life with guts and gusto. Readers learnto face and transform their fear, apply the art of tenacity when times are tough, embrace the lessons and gifts of a crisis that lead to personal growth, and simple, effective, and proven methods for confidence and courage.
About the Author
Mary Beth Sammons is an award-winning journalist and author whose work appears in "Family Circle," the "Chicago Tribune's" lifestyle section, and on various health and wellness websites. She is grateful to be welcomed into the lives of those she writes about who are experiencing the ups and downs of handling life, parenting, and caregiving. She's the author of seven books, including "We Carry Each Other: Getting Through Life's Toughest Times"; "My Family: Collected Memories"; and" Gifts with Heart." She lives in Chicago. Nina Lesowitz is a leader in women's business in the San Francisco Bay Area. A volunteer for literacy organizations, she also runs Spinergy Group, which represents authors, corporate clients, and non-profits. The recipient of a national award for excellence in media relations, she's the co-author of the bestselling "The Party Girl Cookbook." She lives in Oakland.
Advertisement