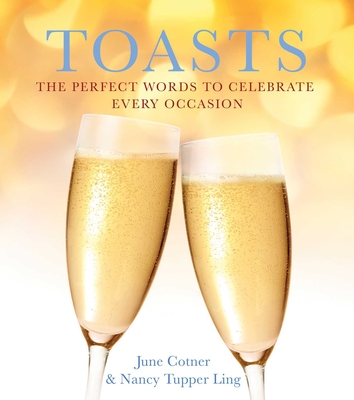 Toasts
The Perfect Words to Celebrate Every Occasion
Paperback

* Individual store prices may vary.
Description
A well-chosen toast can make simple moments special and special moments memorable. Whether it's celebrating a wedding, a job promotion, a birthday, or a new direction in life, toasting is a tradition that remains a part of honoring important occasions. For nearly 20 years, June Cotner has been the go-to for blessings, housewarmings, new babies, graces, and all of life's rites of passage. Here, she joins forces with award-winning poet and author Nancy Tupper Ling to provide the right words for every occasion! Toasts is the perfect resource for any moment where one needs to raise a glass. Organized by category and containing many original toasts written just for this book, this timely tome contains sayings famous and profound, suitable and sentimental. Covering births, weddings, graduations, and other events both major and minor, Toasts also provides inspirations for adding meaning to life's special moments. When it comes to making a toast, knowing what to say and how to say it is a talent that takes practice. Toasts is the perfect place to find fresh original toasts in addition to traditional favorites.
Praise For Toasts: The Perfect Words to Celebrate Every Occasion…
"[Cotner and Ling] opt more for poets and lesser-known speakers--I was surprised at how few names I recognized!--giving you the chance to dodge the more common cliches, and craft something truly worthy of everyone's attention." --San Francisco Book Review
"Cotner & Ling have done some exhaustive research to offer the reader toasts for just about any event the reader could think of. For example, of course the typical wedding, retirement and birthday sentiments are included, but in addition, there are toasts for awards, children, homecoming and any holiday that exists! Need a toast for St. Patrick's Day; it is included. As is Kwanza, Halloween and even April Fool's Day. Toasts gives the reader all sorts of toasts, ideas and even words that could springboard into saying something even more personal. Some toasts are one sentence; others are one paragraph while some are several pages. Authors of the toasts are credited and certainly the reader will never be at a loss for words again." -Portland Book Review
"Nothing makes a special event as memorable as a heartfelt, personal toast that conveys both wit and sincerity. Enter June Cotner and Nancy Tupper Ling's new book Toasts: The Perfect Words to Celebrate Every Occasion, filled with creative ideas, inspirations, and advice on how to create that special remembrance. It is a must on every bookshelf, at every stage of your life." --Emma Roberts, author of Sassy Sips & Nibbles and owner of Capers Catering
"A heartfelt toast can strengthen the bonds of friends, family and colleagues in good times and bad. This elegant and inspiring book provides tons of creative ideas as well as basic toasting etiquette for those of us who want to make sure we're doing it right. May your Toasts be always at the ready!" --Tina Gilbertson, author of Constructive Wallowing: How to Beat Bad Feelings by Letting Yourself Have Them
"Life should be celebrated and Toasts, the newest offering from June Cotner and Nancy Tupper Ling not only reminds you of the importance of making the most of every moment, but also gives you the words to do it. Filled with toasts from famous and not-so-famous, this book offers elegant, eloquent, witty and true toasts for every occasion. Whether you're tongue-tied before a group and need a little helping finding the right words or you are looking to inspire and honor, this book will give you just the right words and sentiment for any occasion." --Polly Campbell, author of Imperfect Spirituality
"Never again to raise my glass with just 'Cheers!.' A broad resource for toasting occasions as well as those moments when one wonders "what to write" on the inside of a card or in the heart of a message. An uplifting resource for all the occasions of our lives." --Mary Anne Radmacher
"Three cheers for this book. It should be on everyone's home or office shelf. That way you will always have just the right words to say when celebrating any occasion. Whether they be wise or witty, with this book they will always be wonderful. I'll toast to that!" --Allen Klein, author of Having the Time of Your Life
"Toasting is a powerful and exciting pastime that we look forward to at every event as well as cherish in our memory. It makes people appreciate the greatest successes as well as those little accomplishments along the way. Toasts: The Perfect Words to Celebrate Every Occasion not only improves our own speaking skills, it makes us smile when we think back to the toasts we have experienced in our lives." --David Mezzapelle, bestselling author of the Contagious Optimism book series
"An adorable collection of special thoughts." -USA Today
— Reviews
Viva Editions, 9781936740857, 257pp.
Publication Date: November 18, 2014
About the Author
June Cotner is the author or editor of 28 books, including the best-selling
Graces
,
Bedside Prayers
, and
Dog Blessings
. Her books altogether have sold over one million copies. June's latest love and avocation is giving presentations on "Adopting Prisoner-Trained Shelter Dogs." In 2011 she adopted Indy, a chocolate Labrador/Doberman mix, from the Freedom Tails program at Stafford Creek Corrections Center in Aberdeen, WA. June works with Indy daily to build on the wonderful obedience skills he mastered in the program. She and Indy have appeared on the television shows
AM Northwest
and
New Day Northwest
. A graduate of the University of California, Berkeley, June is the mother of two grown children and lives in Poulsbo, WA, with her husband. Her hobbies include yoga, hiking, and playing with her two grandchildren. For more information, please visit June's website at
junecotner.com
.