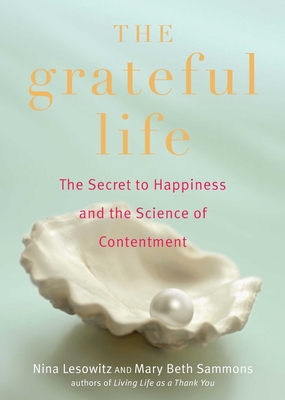 The Grateful Life (Paperback)
The Secret to Happiness and the Science of Contentment
Viva Editions, 9781936740895, 292pp.
Publication Date: October 14, 2014
Description
The Grateful Life is a guide to discovering and achieving one's dreams by harnessing the power of a positive attitude. In years of research and practice, authors Nina Lesowitz and Mary Beth Sammons have discovered that grateful living can transform lives. Grateful people are happier people. They are healthier and less stressed. They report much higher levels of satisfaction with their relationships and are less likely to credit luck with the good fortune of others. This book contains inspiring stories about those who exercise gratitude as a spiritual practice to rise out of adversity to new life. It also shows how grateful living is central to the good life and to attracting abundance. Filled with motivational quotes, resources, and exercises, The Grateful Life helps readers on their journey to creating the life they ve always wanted. Taking the concept of Living Life as a Thank You to the next level, The Grateful Life includes absorbing and transformative stories from real people who unveil the secret to achieving successes both big and small.
About the Author
Nina Lesowitz is a gratitude practitioner and volunteer for literacy organizations. She also runs Spinergy Group, a public relations firm that represents authors and corporate clients as well as nonprofits. The recipient of numerous awards and tributes, including a national award for excellence in media relations, she is also the coauthor of the best-selling "The Party Girl Cookbook." She lives in Oakland, CA. Mary Beth Sammons is an award-winning journalist and author who has contributed to "Family Circle, the Chicago Tribune's" lifestyle section, and various online health and wellness websites. The author of seven books in the women's self-help and health and wellness fields, including "We Carry Each Other: Getting Through Life's Toughest Times, My Family: Collected Memories," and "Gifts with Heart," she lives in Chicago.
Advertisement