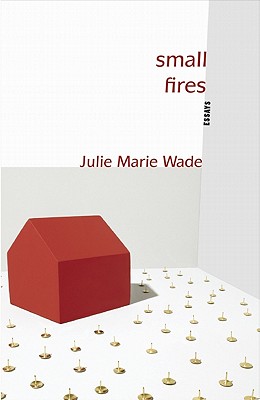 Small Fires
Paperback

* Individual store prices may vary.
Description
This is a daughter's story. In Small Fires, Julie Marie Wade recreates the landscape of her childhood with a lacemaker's care, then turns that precise attention on herself. There are floating tea lights in the bath, coddled blossoms in the garden, and a mother straddling her teenage daughter's back, astringent in hand, to better scrub her not-quite-presentable pores. And throughout, Wade traces this lost world with the same devotion as her mother among her award-winning roses. Small Fires is essay as elegy, but it is also essay as parsing, reconciliation, and celebration, all in the attempt to answer the question--what have you given up in order to become who you are?

Praise For Small Fires…
"Reckoning with imperfect parents—what they owe us and what we owe them—is one of the chief tasks of these essays, which form a kind of pointillistic autobiography. Another is the construction of memories, even imagined, in which understanding and forgiveness trump judgment and hate."
—Kate Tuttle, Boston Globe

"Small Fires is intelligent and elegant, shocking and saddening, heartfelt and hopeful."
—Cindy Wolfe Boynton, Minneapolis Star Tribune

"In Small Fires, Julie Marie Wade. . . considers family and memory with a poetic eye and unabashed tongue. With her carefully chosen words and a studied deliberateness, Wade proves unafraid to delve into her past—to skillfully reconstruct the events of her youth, from the horrifying to the sentimental to the self-conscious and beyond. . . . Small Fires is Julie Marie Wade's story, but the collection opens onto something universal—how we individuate from our family, how we become ourselves, what we carry forward from our pasts and make our own."
—Sarah Rauch, Lambda Literary

"Julie Marie Wade is an intelligent and nuanced writer in whose competent hands the tired old tale of the broken family is invigorated and renewed. I don't really care whether this book will be called a memoir, a group of lyric essays, or a bunch of nonfiction prose-poems. Whatever it's called, it is exquisitely made and cuts right to the heart."
—Rebecca Brown
Sarabande Books, 9781936747023, 174pp.
Publication Date: November 15, 2011
About the Author
Julie Marie Wade is the author of Wishbone: A Memoir in Fractures (Colgate University Press, 2010) and the poetry collections Without (Finishing Line Press, 2010) and Postage Due (White Pine Press, 2013). She has received the Chicago Literary Award in Poetry (2004), the Gulf Coast Nonfiction Prize (2004), the Arts & Letters Nonfiction Prize (2010), and an Al Smith Individual Artist Fellowship from the Kentucky Arts Council (2010). Wade has a Master of Arts in English at Western Washington University and a Master of Fine Arts in Poetry at the University of Pittsburgh and lives with her partner Angie and their two cats in the Bluegrass State, where she is a doctoral student and graduate teaching fellow in the Humanities department at the University of Louisville.