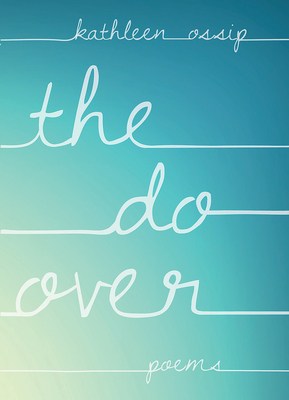 The Do-Over
Paperback

* Individual store prices may vary.
Description
A much anticipated third collection with poems mourning a mother figure, as well as recently deceased cultural icons. Praise for Kathleen Ossip: "Ossip conjures delightful and unexpected muses...shrewd and ambitious."
--New York Times Book Review The Do-Over, Ossip's third collection, is a lyrical, open-ended, meta-leaning meditation on the subject of death.... A]n exquisite cocktail of displacement, minutiae, and metapoetic introspection.
--Boston Review "The biggest surprise in poetry for 2011 is this second book by Kathleen Ossip. It's got everything one could wish for in a new collection of poems. . . . It's just beautiful. And terrifying."
--Publishers Weekly, Best Books of 2011 "The poet has an uncanny ability to convey what it actually feels like to be alive today...Ossip is one of our foremost ethnographers of contemporary unreality."
--The Believer "How do you stay in heaven?" Ossip asks, "Is it a kind of sophisticated rewind?" Her third collection of poems is haunted by the idea of 'rewind, ' and especially by the teasing possibility that we, too-like the moon, like a plant-may be granted cycles of life, death, and rebirth. The book's overarching narrative is the death of the poet's stepmother-in-law, a cherished, loving, eccentric woman who returns to its pages again and again. But in spite of its focused grief and ontological urgency, The Do-Over is a varied collection-short acrostics mourn recently dead cultural icons (Amy Winehouse, Steve Jobs, Donna Summer); there's an ode to an anonymous Chinese factory worker, three "true stories" that read like anecdotes told over drinks, and more. The Do-Over is an unsentimental elegy to a mother figure, a fragmented portrait of its difficult, much loved subject. It's also a snapshot of our death-obsessed, death-denying cultural moment, which in Ossip's gifted hands turns out to be tremulous, skeptical, unsure of ultimate values and, increasingly, driven to find them. "I am still studying, aren't you?" she begins. Readers will eagerly embrace the surprise, humor, and seriousness of her quest.
Sarabande Books, 9781936747962, 96pp.
Publication Date: February 3, 2015
About the Author
Kathleen Ossip is the author of The Cold War (one of Publishers Weekly's Best Books of 2011), The Search Engine (selected by Derek Walcott for the American Poetry Review/Honickman First Book Prize), and Cinephrastics, a chapbook of movie poems. Her poems have appeared in The Best American Poetry, Paris Review, American Poetry Review, Boston Review, The Washington Post, The Believer, A Public Space, and Poetry Review (London). She teaches at The New School in New York and online for The Poetry School of London. She was a founding editor of LIT and is the poetry editor of Women's Studies Quarterly. She has received a fellowship from the New York Foundation for the Arts.