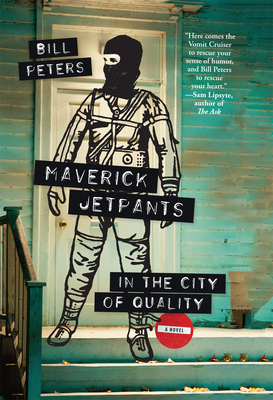 Maverick Jetpants in the City of Quality (Paperback)
Black Balloon Publishing, 9781936787029, 280pp.
Publication Date: October 9, 2012
* Individual store prices may vary.
Description
." . . Bill Peters belongs in the ranks of serious literary artists."--New York Times Book Review, Editor's Choice "By turns funny and moving, this debut richly captures life in a decaying American city."--Publishers Weekly "There were times, while reading Maverick Jetpants, I thought: This isn't a book. It's a panic attack. In a good way. In the way where everything about it is frantic and urgent."--Necessary Fiction "A complex and inventive debut, innovative with language and delightfully unique."--Largehearted Boy "Peters has done something just this side of insane with this book; he's created a character that speaks in a voice everyone will recognize, even while half the words he says allude to things none of us were part of."--Bookslut "Peters proves himself adept at wordplay through the wildly inventive language of the characters."--The Coffin Factory "One of the most inventive novels published this year."--The Los Angeles Review "Maverick Jetpants in the City of Quality is Peters' energetic novelistic response to . . . the universal passage from adolescence to adulthood, the impermanence of friendship and familiar landscapes. . . Readers looking for a story about the slippery transition from silliness to sincerity will find in Maverick Jetpants a style to savor and get lost in."--HTML Giant "Maverick Jetpants in the City of Quality announces the arrival of a powerful and innovative young voice in American fiction."--Literate Man "They aren't necessarily found in a prime spot in every writer's toolbox, but fictional private languages can be evocatively effective when used well. Bill Peters's novel Maverick Jetpants in the City of Quality is one example of this."--Vol. 1 Brooklyn "With all the elements of the best coming-of-age novels, Maverick Jetpants offers a voice and a story that could connect with someone of just about any age, as long as they have the appreciation for nimble, far out, and witty repartee."--ForeWord Reviews "Full of madcap energy, swagger, and brinksmanship."--Fiona Maazel, author of Last, Last Chance "Do you want laughter, suffering, and friendship, Rochester-style? Do you want to marinate in raucous sadness? I know you do. So be ready, everybody. Here comes the Vomit Cruiser to rescue your sense of humor, and Bill Peters to rescue your heart."--Sam Lipsyte, author of Homeland and Venus Drive Rochester, New York, 1999: An arsonist is loose on the streets of a city in decline. Gone are the days of Rioting in the Vomit Cruiser, searching for a possible Tokyo Rocking Horse. In this hilarious, wildly original debut novel, Nathan Gray and best friend Necro live by the code of Joke Royalty, a system of in-jokes known only to a select few. But as the reality of full-time employment, possible spouses, and Neo-Nazis encroaches, their friendship unravels, threatening their dreams of becoming Kodak Park Winjas. Among the gravest Hellstacheries: Necro's strangely vicious drawings and his sudden interest in a group of weapons enthusiasts who may or may not be responsible for the fires erupting through downtown. With no Holy Grail Points left to his name, Nate ventures into Rochester's strangest corners to find out if his best friend is a domestic terrorist Pinning Bow Ties on the Dead or simply Maverick Jetpantsing on with his life--perhaps even beyond The City of Quality. Bill Peters grew up in Rochester, New York, and has received fiction fellowships from the Massachusetts Cultural Council and the University of Massachusetts. He works as a copy editor for the New York Times News Service, the wire service for the New York Times, and lives in Gainesville, Florida. This is his first novel.

About the Author
Originally from Rochester, Bill Peters has received fellowships from the Massachusetts Cultural Council and the University of Massachusetts, Amherst for his fiction. As an editor and journalist, he co-produced four arts and entertainment publications for the Springfield Republican daily newspaper and is now an editor for The New York Times News Service. He lives in Gainesville, Florida. This is his first book.
Praise For Maverick Jetpants in the City of Quality…
"By turns funny and moving, this debut richly captures life in a decaying American city." - Publishers Weekly

"One of the most inventive novels published this year." - The Los Angeles Review

"Do you want laughter, suffering, and friendship, Rochester-style? Do you want to marinate in raucous sadness? I know you do. So be ready, everybody. Here comes the Vomit Cruiser to rescue your sense of humor, and Bill Peters to rescue your heart."Sam Lipsyte, author of Homeland and Venus Drives.

"Nobody writes like Bill Petersin his own language that is full of such verve. The title says it all. Maverick Jetpants in The City of Quality is an audacious debut."Michael Kimball, author of Us, Dear Everybody, and Big Ray

"Full of madcap energy, swagger, and brinksmanship."Fiona Maazel, author of Last, Last Chance
or
Not Currently Available for Direct Purchase