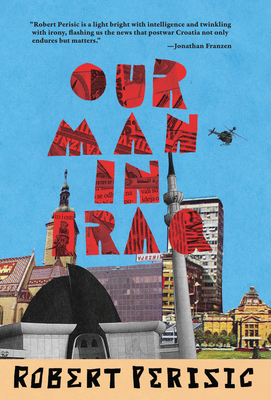 Our Man in Iraq (Paperback)
Black Balloon Publishing, 9781936787050, 202pp.
Publication Date: April 2, 2013
* Individual store prices may vary.
Description
"Robert Perisic depicts, with acerbic wit, a class of urban elites who are trying to reconcile their nineties rebellion with the reality of present-day Croatia. . . . The characters' snide remarks could easily sound cynical but the novel has a levity informed by the sense of social fluidity that comes with democracy."--The New Yorker "Robert Perisic is a light bright with intelligence and twinkling with irony, flashing us the news that postwar Croatia not only endures but matters."--Jonathan Franzen "This jivey--and I should say x-rated--story stays with us."--Alan Cheuse, "All Things Considered" NPR "Despite the serious themes, the novel is largely comic and in many ways falls into the same genre of satirical anti-war novels that includes The Good Soldier by Jaroslav Hasek and Kurt Vonnegut's Slaughterhouse Five. Perisic constructs a series of long and entertaining scenes full of quirky dialogue and rhythmic interior monologue."--The Times Literary Supplement "In this raucous and funny novel about an entire country's post-traumatic stress syndrome, Toni discovers that you can't entirely escape your past no matter how must you try to live your life in fast forward."--Huffington Post "In addition to being a delightfully acerbic primer on a literarily underrepresented part of Europe, Our Man in Iraq may well prove to be one of those rare cases where something is actually gained in translation."--Toronto Star "Given the uncountable billions of words they have dedicated to the war in Iraq, it might be easy for Americans to think of it as belonging solely to them. Even its possession by the Iraqis can feel tenuous at times. So it is a refreshing reminder of the new global village to read a novel like Robert Perisic's Our Man in Iraq, which studies the fighting in Baghdad from the distant shores of Croatia."--Boston Globe "A must-read... brilliantly captures modern-day Zagreb." --The Guardian "How deeply satisfying it is to hear Perisic's wry voice take a different angle, and tell a different story."--ZYZZYVA "This smart, cutting book powerfully illustrates the horrible hangover of war."--Publishers Weekly One of The Millions most anticipated books of 2013 2003: As Croatia lurches from socialism into globalized capitalism, Toni, a cocky journalist in Zagreb, struggles to balance his fragile career, pushy family, and hotheaded girlfriend. But in a moment of vulnerability he makes a mistake: volunteering his unhinged Arabic-speaking cousin Boris to report on the Iraq War. Boris begins filing Gonzo missives from the conflict zone and Toni decides it is better to secretly rewrite his cousin's increasingly incoherent ramblings than face up to the truth. But when Boris goes missing, Toni's own sense of reality--and reliability--begins to unravel. Our Man In Iraq, the first of Robert Perisic's novels to be translated into English, serves as an unforgettable introduction to a vibrant voice from Croatia. With his characteristic humor and insight, Perisic gets to the heart of life made and remade by war.

About the Author
Born in 1969 in Split, Croatia, Robert Perisic has published fiction, nonfiction, and poetry titles in his native country, many of which have been translated into other languages. He began writing short stories in the 1990s with a clear anti-war sentiment and quickly became a popular voice among youth against the war as well as earning a reputation as a rising literary talent. Perisic is now considered one of the most important writers and journalists in the country. He currently lives in Zagreb, Croatia.
Coverage from NPR
or
Not Currently Available for Direct Purchase