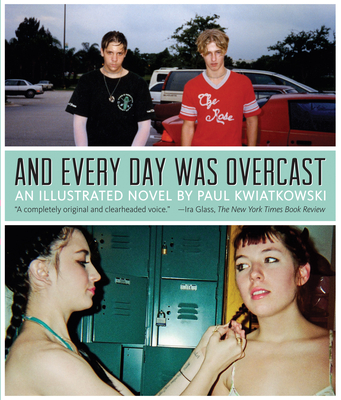 And Every Day Was Overcast
Paperback

* Individual store prices may vary.
Description
This photography-driven fiction about coming of age in the creep show of south Florida's swamps and strip malls is "unlike any book I've ever read . . . A completely original and clearheaded voice" (Ira Glass, host of This American Life)

Out of South Florida's lush and decaying suburban landscape bloom the delinquent magic and chaotic adolescence of And Every Day Was Overcast. Paul Kwiatkowski's arresting photographs amplify a novel of profound vision and vulnerability. Drugs, teenage cruelty, wonder, and the screen-flickering worlds of Predator and Married . . . With Children shape and warp the narrator's developing sense of self as he navigates adventures and misadventures, from an ill-fated LSD trip on an island of castaway rabbits to the devastating specter of HIV and AIDS. This alchemy of photography and fiction gracefully illuminates the travesties and triumphs of the narrator's quest to forge emotional connections and fulfill his brutal longings for love.
Praise For And Every Day Was Overcast…
"This illustrated novel about growing up poor near the swamps of South Florida has a lurid vibrancy. Its prose is lit from below, like a vaguely scummy in-ground swimming pool, and the author's photographs--of ranch houses, randy adolescents, alligators, drug paraphernalia, fishing tackle, convenience stores--are what you might get if you combined William Eggleston's talents with Terry Richardson's." --The New York Times

"Unlike any book I've ever read . . . A completely original and clearheaded voice." --Ira Glass, host of This American Life

"We finish And Every Day Was Overcast in a delirious state of disassociation, not unlike the kids whose lives it seeks to evoke. This, of course, is why we turn to books--or one reason, anyway--to see the world as we have not before. The shabby suburbs of And Every Day Was Overcast may not be unknown to us, but Kwiatkowski's ruthless excavation give us a new language by which we hear stories that might otherwise go unheard." --David L. Ulin, The Los Angeles Times

"Kwiatkowski's immersive book couples a disjointed, disturbing story with photos that capture the disaffected lives of adolescents growing up and getting high in a decaying South Florida in the 1990s . . the novel is peppered with scenes that create a devastating spectacle of lost youth." --Cleveland Plain Dealer

"Disposable-shot photos and alluringly honest prose narrate a romanticized version of the 'lost youth,' filled with vignettes of sex, hallucinogenics, surface encounters, and overall debauchery and delinquency. With aesthetic conviction comparable to that of Harmony Korine, this alternative novel is sure to have you nostalgic and reaching for the cheapest brand of beer you ever got your teenage hands on." --Nylon

"The form of Kwiatkowski's terrific coming-of-age novel, set in the 1990s, is offbeat and provocative. Short chapters, long on imagery and adolescent attitude, nestle between pages of color photographs. What's exciting is how well these components complement one another. The pictures don't literally illustrate the story, but only suggest connections . . . Vibrant and original." --Publishers Weekly
Catapult, 9781936787074, 280pp.
Publication Date: October 15, 2013
About the Author
Paul Kwiatkowski is a New York-based writer and photographer. This is his first novel. His work has appeared in numerous outlets, including Juxtapoz, Beautiful Decay, Dazed and Confused, Fault, Dust, and American Suburb X.
or
Not Currently Available for Direct Purchase