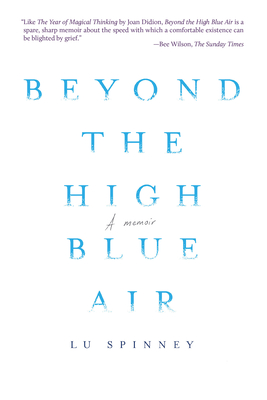 Beyond the High Blue Air
A Memoir
Paperback

* Individual store prices may vary.
Other Editions of This Title:
Compact Disc (8/15/2017)
Compact Disc (10/1/2017)
Description
"Like The Year of Magical Thinking by Joan Didion, Beyond the High Blue Air is a spare, sharp memoir about the speed with which a comfortable existence can be blighted by grief." --Bee Wilson, The Sunday Times Lu Spinney's memoir Beyond the High Blue Air is at once a portrait of the fearlessness of familial love and the profound dilemma posed by modern medicine. When Spinney's twenty-nine-year-old son, Miles, flies up on his snowboard, "he knows he is not in control as he is taken by force up the ramp," writes his mother, "skewing sideways as his board clips the edge and then he is hurtling, spinning up, up into the free blue sky ahead . . ." He lands hard on the ice and falls into a coma. Thus begins the erratic loss--Miles first in a coma and then trapped in a fluctuating state of minimal consciousness--that unravels over the next five years. Spinney, her husband, and three other children put their lives on hold to tend to Miles at various hospitals and finally in a care home. They hold out hope that he will be returned to them. With blunt precision, Spinney chronicles her family's intimate experience. And yet, as personal a book as this is, it offers universal meaning, presenting an eloquent and piercing description of what it feels to witness an intimate become unfamiliar. This is a story about ambiguous loss: the disappearance of someone who is still there. Three quarters of the way through, however, Spinney's story takes a turn. The family and, to the degree that he can communicate, Miles himself come to view ending his life as the only possible release from the prison of his body and mind. Spinney, cutting her last thread of hope, wishes for her son to die. And yet, even as she allows this difficult revelation to settle, she learns that this is not her decision to make. Because Miles is diagnosed as being in a "minimally conscious state" rather than a "persistent vegetative state," there is no legal way to bring about his death, a bewildering paradox that Spinney navigates with compassion and wisdom. This profound book encompasses the lyrical revelations of a memoir like Jean-Dominique Bauby's The Diving Bell and the Butterfly as well as the crucial medical and moral insights of a book such as Atul Gawande's Being Mortal.
Catapult, 9781936787548, 272pp.
Publication Date: August 15, 2017
About the Author
Lu Spinney was born and raised in South Africa. After university, she moved to Nice and Paris, before settling in London. Beyond the High Blue Air is her first book.
1. The author, Lu Spinney, recently received an email from an ICU doctor who had read this book and wrote to say, "Reading your book has made me a better doctor." How might this literary memoir be of service to doctors, nurses, and other medical professionals? What do you think it teaches that may not be taught in medical schools or residencies ?
2. If you are a parent or child guardian, what kind of reactions did you have while reading Beyond the High Blue Air? If you aren't a parent, did your reading of this memoir differ from those of the parents in the group and, if so, how?
3. This is Lu Spinney's first book, and she went back to school to get her MFA in Creative Writing in order to tell Miles's story. Does knowing this is Spinney's debut, and that she took writing classes in order to publish this book, make you think differently about any elements of the book? How so?
4. One of narrative choices the author makes when telling this story is to imagine her son Miles's point of view, including his experience of the snowboarding accident. What did you think of this imagined perspective, and how did it contribute to your opinion of how Lu and her family acted in the face of Miles's traumatic brain injury?
5. Beyond the High Blue Air raises a lot of challenging ethical questions to discuss. Do immediate family members ever have the right to end their relatives' lives? When, if ever, is suicide the most merciful medical option? Do we ever have a right to die? How do we define a meaningful existence, and what is the difference between the biological and metaphysical definition of "being alive"? And who has the power to answer (and enforce the answers to) these questions for others?