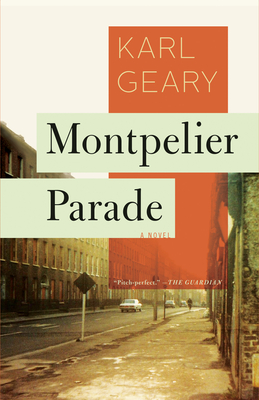 Montpelier Parade
Paperback

* Individual store prices may vary.
Other Editions of This Title:
MP3 CD (4/10/2018)
Description
" An] accomplished debut. . . . The novel is narrated entirely in the second person, a stylistic choice that produces moments of intense intimacy." --The New Yorker "Geary enters the literary arena with a bang: this debut about an unconventional love affair between a teenage boy and an older woman is unassuming but gorgeously rendered." --Publishers Weekly, starred and boxed review Montpelier Parade is just across town, but to Sonny it might as well be a different world. Working with his father in the garden of one of its handsome homes one Saturday, he sees a back door easing open and a beautiful woman coming down the path toward him. This is Vera, the sort of person who seems destined to remain forever out of his reach. Hoping to cast off his loneliness and a restless sense of not belonging--at high school, in his part-time job at the butcher shop, and in the increasingly suffocating company of his own family--Sonny drifts into dreams of a different kind of life. A series of intoxicating encounters with Vera lead him to feel he has fallen in love for the first time, but why does her past seem as unknowable as her future? Unfolding over a bright, rain-soaked Dublin spring, Montpelier Parade is a rich, devastating debut novel about desire, grief, ambition, art, and the choices we must make alone.
Catapult, 9781936787555, 224pp.
Publication Date: August 22, 2017
1. This novel is told in the narrative second person ("You tucked the wet newspaper into your armpit and ran and opened the shop door for her. The bell over the door made a thin sound as she left the shop, and you felt the sodden paper through your shirt."). Had you ever read a novel narrated this way before? Did it take some getting used to? How do you think it helped the author to tell this particular story?
2. The novel is set in 1980s Dublin, Ireland, where rigid class divides and an often crushing lack of opportunity are the backdrop of Sonny Knolls' life. Did this world feel far away from your own, or did you feel like there were resonances or parallels to where you live today?
3. Discuss the character of Vera. Did her actions ever surprise you in this novel? How did author Karl Geary's portrayal of a romance between Vera, an older woman and Sonny, a younger man, differ from other literary or cinematic treatments of this relationship dynamic?
4. One of the emotions that Geary's characters return to again and again in Montpelier Parade is loneliness, even when they in the physical presence of others. How do Sonny and Vera's experiences of loneliness differ or resemble one another, despite their disparate circumstances? How does each deal (or struggle to deal) with their loneliness?
5. Do Sonny's relationships with his mother and family influence his relationship with Vera? How so?
6. Many critics have described this book as a "coming-of-age novel." Part of Sonny's motivation, his drive, seems to be a quintessential adolescent yearning, even if he might not fully understand the consequences of getting what he wants. Imagine your teenage former self read Montpelier Parade. What might they have thought of it? Would they have connected with Sonny, or is the hindsight we gain in age key to understanding and being moved by this character?
7. If you were selecting music for the soundtrack to accompany the film version of Montpelier Parade, what songs might you choose and why?