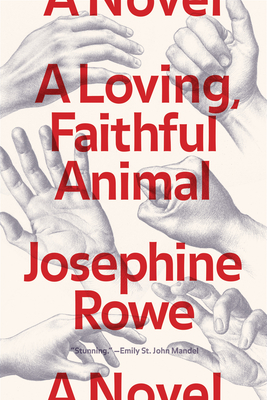 A Loving, Faithful Animal
A Novel
Paperback

* Individual store prices may vary.
Description
"I found myself considering those rare things only books can do, feats outside the purview of film or fine art . . . Gorgeous." —Samantha Hunt, The New York Times Book Review

It is New Year's Eve 1990, in a small town in southeast Australia. Ru's father, Jack, one of thousands of Australians once conscripted to serve in the Vietnam War, has disappeared. This time Ru thinks he might be gone for good. As rumors spread of a huge black cat stalking the landscape beyond their door, the rest of the family is barely holding on. Ru's sister, Lani, is throwing herself into sex, drugs, and dangerous company. Their mother, Evelyn, is escaping into memories of a more vibrant youth. And meanwhile there is Les, Jack's inscrutable brother, who seems to move through their lives like a ghost, earning both trust and suspicion.

A Loving, Faithful Animal is an incandescent portrait of one family searching for what may yet be redeemable from the ruins of war. Tender, brutal, and heart–stopping in its beauty, this novel marks the arrival in the United States of Josephine Rowe, the winner of the 2016 Elizabeth Jolley Prize and one of Australia's most extraordinary young writers.
Praise For A Loving, Faithful Animal: A Novel…
Praise for A LOVING, FAITHFUL ANIMAL

"A slim beauty . . . I found myself considering those rare things only books can do, feats outside the purview of film or fine art . . . A work of such well–defined characters, each so carefully drawn as to breathe, and a work so full of stark emotional moments . . . Gorgeous, precise language encourages inner storms . . . Like the best of Breece D'J Pancake or W.G. Sebald, Rowe plants small moments from history as a soldier might bury landmines." —Samantha Hunt, The New York Times Book Review

"A heartbreaking and memorable hero. . . . A rich, kaleidoscopic depiction of inherited trauma in stunning prose." —Kirkus Reviews

"Rowe's richly interiorized characterizations and muscular prose, of the condensed and economic variety that manages to say a lot with a little, herald her exciting U.S. entrée." —Booklist

"Stunning, gorgeously written . . . While the presence of pain never leaves this story, the beauty and compassion with which it's told, the deep understanding of the fierce love and shared toxicity that bind families together, makes the pain bearable, makes it important to bear witness to this tragic, gorgeously wrought story." —Kristin Iverson, Nylon

"[A] devastating piece of literature crafted by an exceptionally talented writer who tears the lives of her characters asunder and then charts their path back together. . . . Rowe is, and this can't be said enough, a remarkable writer. Her prose is a mixture of Denis Johnson's tough guy prattle and the deft, character painting of Stephen King." —East Bay Review

"Exquisite." —The Millions, "The Millions Most Anticipated"

"A subtle and haunting meditation on childhood, escape, the bonds and the limits of family, and the long reach of trauma. Rowe is a serious talent, and her debut novel is both gorgeous and stunning." —Emily St. John Mandel, author of Station Eleven

"A Loving, Faithful Animal lured me in with astonishing, poetic prose, and a glimpse of an Australia I don't always see in fiction. But the true thrill of the novel is the carousel of haunting characters Josephine Rowe creates with unbelievable precision. An unflinching look at the ways we fail the people we love, at the cruelty of family, its toxicity, and beauty. The book is a deep, multi–faceted portrait of the inheritance of damage, one that left me aching and inspired." —Stephanie Danler, New York Times bestselling author of Sweetbitter

"Josephine Rowe writes like someone who, having been quiet a long time, has thought carefully and viciously about what must be said. In this flinty debut, Rowe fashions a string of refractory surfaces—the family members of a veteran—to remind us just how far, into love and time, the atrocity of war will reach."" —Kathleen Alcott, author of Infinite Home

"A slim novel packed with delicious prose, easy to lose yourself in and hard to leave behind."" —Amelia Gray, author of Gutshot

"One of the smarter, most lyrically written stories you'll read about a fracturing family."" —Library Journal

"Rowe's language is trance–inducing. Do right by yourself, nest down and prepare to be swept away by these characters, their respective dilapidations, in this mesmerizing, incandescent novel. Masterful." —Brendan Jones, author of The Alaskan Laundry

"Deft, lyrical and deeply moving." —Wayne Macauley, author of The Cook

"With poetic prose, Josephine Rowe creates a memorable cast of characters." —World Literature Today

"A compelling and singular emotional experience ... Haunting ... Rowe makes it clear from the first paragraph of this clenched, resolute study of family damage that sentiment has no place here. She will reveal something harder and truer." —Kate Holden, Australian Book Review

"Rowe's much–anticipated debut novel dives into the heart of a family attempting to salvage themselves from the scars of the past. Brutal and tender, this is a dark domestic drama battling with the wreckage of the Vietnam War." —Robert Bound, Monocle magazine
Catapult, 9781936787579, 176pp.
Publication Date: September 12, 2017
About the Author
Josephine Rowe was born in 1984 in Rockhampton, Australia, and grew up in Melbourne. In the United States her writing has appeared in McSweeney's Quarterly Concern, The Iowa Review, The Paris Review Daily, and other publications. She holds fellowships from the Wallace Stegner Program in fiction at Stanford University, the International Writing Program at the University of Iowa, the Omi International Arts Center, and Yaddo. In 2016, her fiction won the Elizabeth Jolley Prize in Australia. She currently lives in Tasmania.
or
Not Currently Available for Direct Purchase