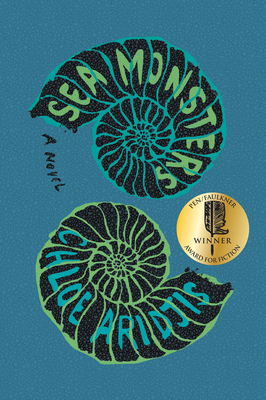 Sea Monsters
A Novel
Hardcover

* Individual store prices may vary.
Other Editions of This Title:
Digital Audiobook (2/4/2019)
Paperback (2/18/2020)
Compact Disc (2/5/2019)
MP3 CD (2/5/2019)
Description
Winner of the 2020 PEN/Faulkner Award for Fiction, this intoxicating story of a teenage girl who trades her a middle–class upbringing for a quest for meaning in 1980s Mexico is "a surreal, captivating tale about the power of a youthful imagination, the lure of teenage transgression, and its inevitable disappointments" (Los Angeles Review of Books).

One autumn afternoon in Mexico City, seventeen–year–old Luisa does not return home from school. Instead, she boards a bus to the Pacific coast with Tomás, a boy she barely knows. He seems to represent everything her life is lacking―recklessness, impulse, independence.

Tomás may also help Luisa fulfill an unusual obsession: she wants to track down a traveling troupe of Ukrainian dwarfs. According to newspaper reports, the dwarfs recently escaped a Soviet circus touring Mexico. The imagined fates of these performers fill Luisa's surreal dreams as she settles in a beach community in Oaxaca. Surrounded by hippies, nudists, beachcombers, and eccentric storytellers, Luisa searches for someone, anyone, who will "promise, no matter what, to remain a mystery." It is a quest more easily envisioned than accomplished. As she wanders the shoreline and visits the local bar, Luisa begins to disappear dangerously into the lives of strangers on Zipolite, the "Beach of the Dead."

Meanwhile, her father has set out to find his missing daughter. A mesmeric portrait of transgression and disenchantment unfolds. Set to a pulsing soundtrack of Joy Division, Nick Cave, and Siouxsie and the Banshees, Sea Monsters is a brilliantly playful and supple novel about the moments and mysteries that shape us.

"Aridjis is deft at conjuring the teenage swooniness that apprehends meaning below every surface. Like Sebald's or Cusk's, her haunted writing patrols its own omissions . . . The figure of the shipwreck looms large for Aridjis. It becomes a useful lens through which to see this book, which is self–contained, inscrutable, and weirdly captivating, like a salvaged object that wants to return to the sea." ―Katy Waldman, The New Yorker
Praise For Sea Monsters: A Novel…
Praise for Sea Monsters

Winner of the 2020 PEN/Faulkner Award for Fiction
The Atlantic, Not Your Average Beach Read
Bustle, 1 of 24 Fiction Books Coming Out This Month that You Definitely Need to Read

"Following a grand narrative tradition of privileged yet jaded youth, this novel's teen–age protagonist, Luisa, flees her middle–class life in Mexico City in search of adventure . . . Aridjis, like Luisa, has a knack for clever observations, and her supple writing ultimately keeps the story going."—The New Yorker

"A mesmerizing novel . . . Aridjis beautifully renders the perspective of a bored, intelligent, privileged teenage girl—a decadent, solipsistic daydream." —Emily Rhodes, Financial Times

"[A] dreamy, fantastical novel packed with lush description as Luisa recounts her first encounters with the darkly enrapturing Tomás, interchanged with scenes of her new life on the beach, where she becomes increasingly intertwined with others' lives." —Jill Capeway, HuffPost

"Based on an episode from Aridjis's teenage years in Mexico, the novel's brilliance lies in capturing so convincingly that state of adolescent restlessness . . . With its watery setting, its perhapses and probablys, the novel carries a suggestion that things aren't quite as they seem . . . Aridjis leaves us with the sense that Luisa's disillusionment, like everything else, is in flux."—Francesca Carington, The Daily Telegraph

"A surreal, captivating tale about the power of a youthful imagination, the lure of teenage transgression, and its inevitable disappointments . . . Aridjis allows her narrative to swell and recede like the sea, along with Luisa's capacious imagination . . . Aridjis excels at writing a life lived in the borderlands between reality and fantasy, conveying the imagination of a 17–year–old with whims and fancies that are intriguing rather than exasperating or laughable. Luisa's goals remain elusive, and her gradual disenchantment is entirely relatable. Moreover, the novel's precocious teenage narrative voice is replete with sentences of rare beauty and power. I may start reading it again at once." —Ellen Jones, Los Angeles Review of Books

"Sea Monsters revels in a mode of perception that's just a little bit off from true . . . Luisa delights in the improbable but actual . . . Sea Monsters is a treasure chest of Luisa's deftly curated visions." —Angela Woodward, BOMB Magazine

"A coming–of–age story set . . . in the Mexico in which Aridjis grew up, in which the language is precise, strange, evocative and wise. It's language as it really ought to be . . . The novel poses far more questions than it answers, and it does so accurately and beautifully." —R. O. Kwon, The Guardian

"[Aridjis] riffs like a poet, letting each image twist and grow into the next . . . The novel's strength lies in its ability to turn to the next magic trick, the next detail, the next sight. Those sights are all the more impressive when conjured solely from language. By opting out of fiction's conventional prioritization of plot or character development, Aridjis foregrounds her ability to develop images and metaphors. The result is seductive in its multiplicity. Mallarmé would be proud." —Lily Meyer, The Atlantic

"Sea Monsters is a searingly hypnotic work, a dazzling tale of enchantment and disenchantment that unfolds in Mexico City and Oaxaca in the late 1980s." —Laura Esquivel, bestselling author of Like Water for Chocolate

"What a seamless, cohesive, verging on sweetly claustrophobic voice this is." —Peter Rock, author of The Night Swimmers
Catapult, 9781936787869, 224pp.
Publication Date: February 5, 2019
About the Author
Chloe Aridjis is a Mexican–American writer who was born in New York and grew up in the Netherlands and Mexico. After completing her Ph.D. at the University of Oxford in nineteenth–century French poetry and magic shows, she lived for nearly six years in Berlin. Her debut novel, Book of Clouds, has been published in eight languages and won the Prix du Premier Roman Étranger in France. Aridjis sometimes writes about art and insomnia and was a guest curator at Tate Liverpool. In 2014, she was awarded a Guggenheim Fellowship. She lives in London.