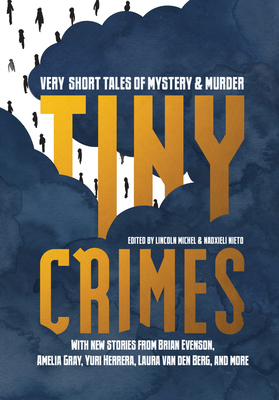 Tiny Crimes
Very Short Tales of Mystery and Murder
Paperback

* Individual store prices may vary.
Description
"An intriguing take on crime/noir writing, this collection of 40 very short stories by leading and emerging literary voices . . . investigates crimes both real and imagined. Despite their diminutive size, these tales promise to pack a punch." --Chicago Tribune Forty very short stories that reimagine the genre of crime writing from some of today's most imaginative and thrilling writers, Tiny Crimes offers tales of villainy and intrigue in only a few hundred words. From the most hard-boiled of noirs to the coziest of mysteries, with diminutive double crosses, miniature murders, and crimes both real and imagined, Tiny Crimes rounds up all the usual suspects, and some unusual suspects, too. With illustrations by Wesley Allsbrook and flash fiction by Carmen Maria Machado, Benjamin Percy, Amelia Gray, Adam Sternbergh, Yuri Herrera, Julia Elliott, Elizabeth Hand, Brian Evenson, Charles Yu, Laura van den Berg, and more, Tiny Crimes scours the underbelly of modern life to expose the criminal, the illegal, and the depraved.
Praise For Tiny Crimes: Very Short Tales of Mystery and Murder…
Praise for Tiny Crimes
"With only a few hundred words at their disposal, the authors find inventive ways to tell their compact tales of mystery, often eschewing ornate whodunit plots for varied storytelling techniques. . . . The tenor of each piece varies from the dreamlike (Laura van den Berg's "Friends") to the deliciously gruesome (Richie Navarez's "Withhold the Dawn"). . . . The range of writers from leading independent presses is impressive." —
Library Journal
"Tiny Crimes is like a magical locket you open and out pour so many stunning strands of universe you can barely hope to contain again. Not only is there something delightful in reading the works of our greatest authors like this side by side; there is something so deliciously subversive in this anthology's insistence that all sorts of enormities be delivered as diminutive. Microfiction here means the classical, the experimental, the transgressive, the mannered, the American, the transnational—no matter where we go within it, this restless unsettling gem of a collection is unforgettable." —Porochista Khakpour, author of Sick
"This collection of rabbit-punch stories demonstrate the limitless power and possibilities of crime/noir, a genre not afraid to tell you all about the downtrodden and outsiders who are gonna get you and get you good. Tiny Crimes packs a big wallop." —Paul Tremblay, author of A Head Full of Ghosts and The Cabin at the End of the World
"Who knew so many of today's best fiction writers were such devious and depraved individuals, with hearts keen to a whole array of illegal or at least ill-advised desires, with minds capable of planning unlikely capers—or at least of coming up with particularly bold alibis? Tiny Crimes is a fantastic celebration of its genre, and its many diminutive capers are sure to thrill and surprise even hardened readers of the form." —Matt Bell, author of Scrapper
Praise for Gigantic Worlds, edited by Lincoln Michel and Nadxieli Nieto
"Excellent." —Vice
"I really cannot recommend this book enough. Chock full of contemporary sci-fi stories. Funny, weird, transgressive, memorable, transfixing, haunting, and hands down impressive. Best sci-fi anthology since 'Dangerous Visions'. A gem!" —Matt Lewis, editor of the States of Terror anthologies
Praise for Upright Beasts by Lincoln Michel
"Weird, darkly funny stories…Michel ably handles modes from lyrical to ironic." —New York Times
"[Upright Beasts] reminded me of the absolute wonder great fiction creates"—Roxane Gay
"If you were taking the pulse of American short fiction circa now, you might begin with Lincoln Michel's Upright Beasts." —BOMB Magazine
"Deadpan and life affirming, the stories in this genre-bending debut veer from an apartment complex for the suicidal to a ghostly artists' colony to the innards of wild things."—O, The Oprah Magazine
"Michel, one of the country's most respected literary journalists, is also well known for his short stories that defy easy classification"—Men's Journal
"The stories are full of monstrous surprises and eerie silences. But who is the real beast? Michel quietly, but unequivocally, leads readers to the answer as he navigates weird tragicomedy of daily life. With zombies."—Vanity Fair
Black Balloon Publishing, 9781936787876, 288pp.
Publication Date: June 5, 2018
About the Author
Lincoln Michel is the author of Upright Beasts, a collection of short stories from Coffee House Press. His fiction and criticism appear in The New York Times, Vice, Granta, The Guardian, Rolling Stone, the Pushcart Prize anthology, and elsewhere. With Nadxieli Nieto, he is the coeditor of Gigantic Worlds, an anthology of science flash fiction. You can find him online at www.lincolnmichel.com. Nadxieli Nieto is an editor and art director. She is the coeditor of Carteles Contra Una Guerra, which won the Premis Ciutat de Barcelona, and the Gigantic Books series. Formerly, she was the managing editor of the award-winning NOON annual and the editor in chief of Salt Hill journal. Her poetry has appeared in publications such as New York Tyrant, West Wind Review, and Washington Square Review, among others. She is on the steering committee of Latinx in Publishing (LxP) and teaches at CCNY. Her collaborative artist books may be found in the permanent collections of the Museum of Modern Art and the Brooklyn Museum.
or
Not Currently Available for Direct Purchase