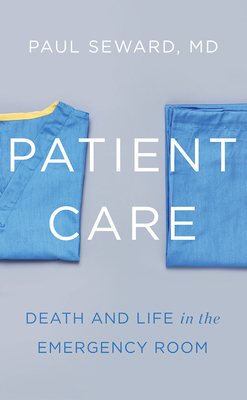 Patient Care (Hardcover)
Death and Life in the Emergency Room
Catapult, 9781936787883, 240pp.
Publication Date: July 3, 2018
* Individual store prices may vary.
Description
"A volume brimming with humanitarian lessons in medicine and life alike." --Kirkus Reviews
"A generous, compassionate book about what it is to be human and what it is to care. Paul Seward writes in language so clear and compelling you can see straight through it and into the beating heart beneath." --Kate Cole-Adams, author of Anesthesia
Drawing on a career launched in the first days of the specialty of emergency medicine, Dr. Paul Seward takes the reader with him into the ER in his riveting memoir.
Told in fast-paced, stand-alone chapters that recall unforgettable medical cases, Patient Care offers the fascination of medical mysteries, wrapped in the drama of living and dying. A snap judgment about a child nearly kills him, and a priest who may be having a heart attack refuses treatment. An asthmatic man develops air bubbles in his shoulders, and a pharmacist is haunted by a decision he makes.
But the book goes beyond these stories. Each chapter explores ethical questions that remind us of the full humanity of patients, nurses, coroners, pharmacists, and, of course, doctors. How do they care for strangers in their moments of crisis? How do they care for themselves?
Dr. Seward rejects doctor-as-God narratives to write frankly about moments of failure, and champions the role of his colleagues in health care. And, for all the moral dilemmas here, there is plenty of wit and humor, too. (See the patient who punches our doctor.) Readers of Patient Care will find themselves thinking along with Dr. Seward: "What is the right thing to do? What would I do?"
About the Author
Paul Seward has been a physician for nearly fifty years, and has spent the majority of those years working in emergency rooms on both coasts. He is a graduate of Stanford University and Harvard Medical School, and did his internship and residency in Pediatrics at UC San Francisco. Seward is an Emeritus member of the American Academy of Pediatrics and the American College of Emergency Physicians. Now retired, he and his wife live in Vermont.
Praise For Patient Care: Death and Life in the Emergency Room…
Praise for Patient Care
"A fascinating and engrossing experience useful for both medical professionals or anyone with even a casual interest in clinical life. The common thread they share is the unconditional compassionate care extended by a seasoned physician who put his heart and soul into every human encounter. A volume brimming with humanitarian lessons in medicine and life alike." —Kirkus Reviews
"Dr. Seward's debut memoir, Patient Care, is a fascinating journey through a profession shrouded with mystery." —Paul Ruggieri, MD, author of Confessions of a Surgeon
"Reading this book is like a fireside chat with your favorite uncle, if your favorite uncle happens to have been a venerable ER doc with a thousand stories of our collective human struggle—stories of life and death, humor and heartache, some harrowing, many haunting, often with a surprise you didn't see coming. Set aside some alone time and let these pages slip by as effortlessly as Seward's prose." —Bud Shaw, MD,
author of Last Night in the OR
"A generous, compassionate book about what it is to be human and what it is to care. Paul Seward writes in language so clear and compelling you can see straight through it and into the beating heart beneath." —Kate Cole-Adams, author of
Anesthesia