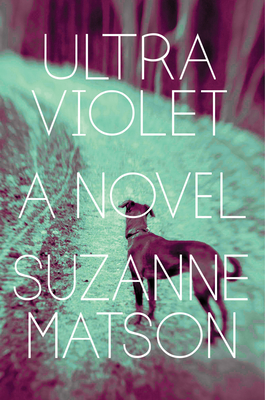 Ultraviolet
Hardcover

* Individual store prices may vary.
Other Editions of This Title:
Paperback (9/10/2019)
MP3 CD (1/1/2019)
Compact Disc (1/1/2019)
Description
Named a Best Book of 2018 by Real Simple "This unostentatious yet intricate novel follows the women of a family across nearly a century . . . Domestic scenes emit blasts of emotional life, as the women grapple with the 'swooning collapse and then the expanding distance' between their interior lives and the outside world." --The New Yorker Suzanne Matson's engrossing and intimate new novel, Ultraviolet, centers on Kathryn--the daughter of Elsie and mother of Samantha--while illuminating the lives of three generations of women, each more independent than the last. Their stories open in 1930s India, where Elsie lives with her authoritarian missionary husband and their children. Returning to the American Midwest as a teenager, Kathryn feels alienated and restless. When she loses her mother prematurely to a stroke, she escapes to Oregon for a fresh start. Disappointed that her education was cut short by her father, and dreaming of becoming a writer, she supports herself as a waitress in wartime America, dating soldiers, then meeting and marrying Finnish-American Carl. A construction worker sixteen years her senior, he is an unlikely match, though appealing in his care-free ways and stark difference from her Mennonite past. But Kathryn ends up feeling trapped in the marriage, her ambitions thwarted. Samantha, who's grown up in the atmosphere of her mother's discontent, follows her own career to teach at a university in faraway Boston, where she maintains a happy family of her own. When Kathryn starts to fail, Samantha moves her mother near her to care for, and then to watch over her deathbed, where "something in the room--the spell, the cord knitting them together--is cut. Or no, that can't be right, either." Ultraviolet is a lyrical novel of great emotional depth. Suzanne Matson recognizes both the drama that is within every existence and the strengths and fragilities of our relationships with others. She shines a brilliant light on the complexities of marriage, motherhood, aging, and the end of life.
Praise For Ultraviolet…
Praise for The Tree-Sitter (2006)
"Through the lens of first love, Suzanne Matson raises questions of morality and responsibility, of idealism and identity. . . . It's rare for fiction to push its protagonist and its readers to such moral dilemmas, but Matson is unflinching." —Ann Hood, author of Morningstar
"The Tree-Sitter is one of those rare, elegantly written, quietly intense books that, without resorting to sensationalism or fanfare, winds up keeping you awake at night." —Suzanne Berne, author of The Dogs of Littlefield
"With its vivid characters, suspenseful plot, and moral complexity, this is a wonderful and very timely novel." —Margot Livesey, author of Mercury
"At once luminous and dark, The Tree-Sitter asks age-old questions in a brand-new world. This is Suzanne Matson's most gripping, resonant, and timely book to date." —Elizabeth Graver, author of The End of the Point
"A confounding but compelling romance with impeccable timing." —Los Angeles Times
Praise for A Trick of Nature (2000)
"A compelling, unpredictable narrative that moves beyond its calm suburban setting into darker social and psychological territory. Suzanne Matson's gripping second novel only confirms what readers of The Hunger Moon already know: she is a writer of uncommon wisdom and emotional depth." —Tom Perrotta, author of Mrs. Fletcher
"Like Ann Hood and Sue Miller, Suzanne Matson captures average people reevaluating their once comfortable domesticity as middle age slowly approaches. In delivering the Goodmans' stumbling marriage, A Trick of Nature plumbs the attractions and terrors of giving up the familiar for an uncertain freedom." —Stewart O'Nan, author of City of Secrets
"A compassionate psychological portrait of one family's slow unraveling—A Trick of Nature skillfully charts the often unpredictable aftershocks of tragedy." —A. Manette Ansay, author of Good Things I Wish You
"So skillfully does Matson describe the calm before the marital storm that it's possible to be lulled right along with them into their own blind harmony." —Boston Book Review
Praise for The Hunger Moon (1997)
"In this fast-moving, elegantly crafted novel, Suzanne Matson traces the arch and swoop of women moving through each other's lives." —Pagan Kennedy, author of Inventology
"Matson has given us a poet's-eye view—not just the behaviors but the emotional map as well." —Harvard Review
"A lovely, engaging first novel about the intersections between three women at very different points in their lives, each looking both inward and outward to find her place in the world." —Melanie Thernstrom, author of The Pain Chronicles
"Crisp, clean writing. . . . Compassionately drawn characters. . . . Matson examines the full sweep of women's lives." —The New York Times Book Review
Catapult, 9781936787951, 256pp.
Publication Date: September 4, 2018
About the Author
Suzanne Matson was born in Portland, Oregon, and studied at Portland State University and the University of Washington. Her first novel, The Hunger Moon, was a Barnes & Noble Discover Great New Writers pick. Her third, The Tree-Sitter, was short-listed for the PEN New England/L. L. Winship Award. She has published two poetry collections with Alice James Books, teaches at Boston College, and lives in Newton, Massachusetts.