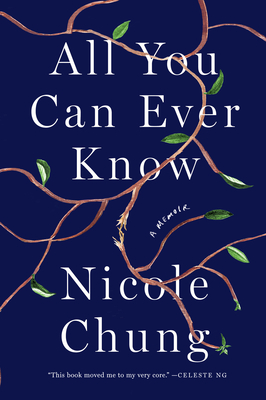 All You Can Ever Know (Hardcover)
A Memoir
Catapult, 9781936787975, 240pp.
Publication Date: October 2, 2018
* Individual store prices may vary.
Description
A Barnes & Noble Discover Great New Writers Selection
An American Booksellers Association Indie Next Pick
An Official Junior Library Guild Selection
Named a Best Book of Fall by The Washington Post, Entertainment Weekly, Elle, Nylon, Bustle, BookRiot, and more "This book moved me to my very core. . . . All You Can Ever Know is full of insights on race, motherhood, and family of all kinds, but what sets it apart is the compassion Chung brings to every facet of her search for identity and every person portrayed in these pages. This book should be required reading for anyone who has ever had, wanted, or found a family―which is to say, everyone." ―Celeste Ng, author of Little Fires Everywhere "An urgent, incandescent exploration of what it can mean to love, and of who gets to belong, in an increasingly divided country. Nicole Chung's powerful All You Can Ever Know is necessary reading, a dazzling light to help lead the way during these times." ―R. O. Kwon, author of The Incendiaries What does it mean to lose your roots--within your culture, within your family--and what happens when you find them? Nicole Chung was born severely premature, placed for adoption by her Korean parents, and raised by a white family in a sheltered Oregon town. From childhood, she heard the story of her adoption as a comforting, prepackaged myth. She believed that her biological parents had made the ultimate sacrifice in the hope of giving her a better life, that forever feeling slightly out of place was her fate as a transracial adoptee. But as Nicole grew up--facing prejudice her adoptive family couldn't see, finding her identity as an Asian American and as a writer, becoming ever more curious about where she came from--she wondered if the story she'd been told was the whole truth. With warmth, candor, and startling insight, Nicole Chung tells of her search for the people who gave her up, which coincided with the birth of her own child. All You Can Ever Know is a profound, moving chronicle of surprising connections and the repercussions of unearthing painful family secrets--vital reading for anyone who has ever struggled to figure out where they belong.
About the Author
Nicole Chung has written for The New York Times, GQ, Longreads, BuzzFeed, Hazlitt, and Shondaland, among other publications. She is Catapult magazine's editor in chief and the former managing editor of The Toast. All You Can Ever Know is her first book. Foll ow her on Twitter at @nicole_soojung.
Praise For All You Can Ever Know: A Memoir…
Praise for All You Can Ever Know
"This book moved me to my very core. As in all her writing, Nicole Chung speaks eloquently and honestly about her own personal story, then widens her aperture to illuminate all of us. All You Can Ever Know is full of insights on race, motherhood, and family of all kinds, but what sets it apart is the compassion Chung brings to every facet of her search for identity and every person portrayed in these pages. This book should be required reading for anyone who has ever had, wanted, or found a family—which is to say, everyone." —Celeste Ng, author of Little Fires Everywhere
"This book will break your heart in all the best ways. Nicole Chung's intimate exploration of motherhood, race, and identity is a beautiful personal story that also reveals something profound about our culture and country. I didn't want it to end." —Jessica Valenti, author of Sex Object
"I've been waiting for this writer, and this book—and everything else she'll write—and now it is here." —Alexander Chee, author of The Queen of the Night
"In All You Can Ever Know, Nicole Chung examines her family history with rigor and grace, which is the best possible way to set about the prospect of asking questions of the people who made you. The book is lovely, and loving, and committed to honesty and exploration. It never shies away from reality. Nicole's earnestness, her great capacity for affection, her commitment to dealing justly with others, her sense of humor are all vividly present here." —Daniel Mallory Ortberg, author of The Merry Spinster: Tales of Everyday Horror
"An urgent, incandescent exploration of what it can mean to love, and of who gets to belong, in an increasingly divided country. Nicole Chung's powerful All You Can Ever Know is necessary reading, a dazzling light to help lead the way during these times." —R. O. Kwon, author of The Incendiaries
"Compassionate and compelling. A memoir about understanding yourself as a daughter so that you may understand yourself as a mother."—Rainbow Rowell, author of Carry On
"Nicole Chung has written a book for everyone, but the real gift is for adoptees. With her rare talent for telling a story while also telling you what it means, All You Can Ever Know is Chung at top form. This is a book not to miss and an adoption story we need. Read everything Nicole Chung writes. Start now."—Matthew Salesses, author of The Hundred-Year Flood