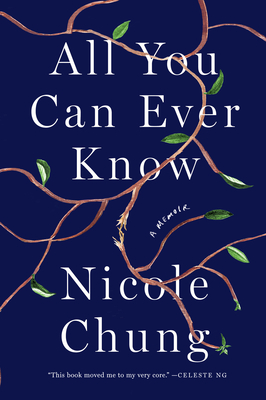 All You Can Ever Know
A Memoir
Hardcover

* Individual store prices may vary.
Other Editions of This Title:
Digital Audiobook (10/1/2018)
Paperback (10/15/2019)
Library Binding, Large Print (1/23/2019)
Description
A NATIONAL BESTSELLER

This beloved memoir "is an extraordinary, honest, nuanced and compassionate look at adoption, race in America and families in general" (Jasmine Guillory, Code Switch, NPR)

What does it means to lose your roots—within your culture, within your family—and what happens when you find them?

Nicole Chung was born severely premature, placed for adoption by her Korean parents, and raised by a white family in a sheltered Oregon town. From childhood, she heard the story of her adoption as a comforting, prepackaged myth. She believed that her biological parents had made the ultimate sacrifice in the hope of giving her a better life, that forever feeling slightly out of place was her fate as a transracial adoptee. But as Nicole grew up—facing prejudice her adoptive family couldn't see, finding her identity as an Asian American and as a writer, becoming ever more curious about where she came from—she wondered if the story she'd been told was the whole truth.

With warmth, candor, and startling insight, Nicole Chung tells of her search for the people who gave her up, which coincided with the birth of her own child. All You Can Ever Know is a profound, moving chronicle of surprising connections and the repercussions of unearthing painful family secrets—vital reading for anyone who has ever struggled to figure out where they belong.
Praise For All You Can Ever Know: A Memoir…
Finalist for the National Book Critics Circle Award for Autobiography
Long-listed for the PEN Open Book Award
Finalist for the ABA Indies Choice Adult Nonfiction Book of the Year Award
A Finalist for the 2019 NAIBA Book of the Year in Nonfiction
Named a Best Book of the Year by The Washington Post, NPR, Time, The Boston Globe, and more

"[A] deeply moving and profound account of [Chung's] life as a Korean American adoptee, as she grows up and strives to understand her identity . . . All You Can Ever Know honors the grand complexity of love, family, and identity, while showing us how these things can save us and break us with devastating clarity and beauty." ―Today

"Chung's memoir is more than a thoughtful consideration of race and heritage in America. It is the story of sisters finding each other, overcoming bureaucracy, abuse, separation, and time." ―The New Yorker

"Chung's search for her biological roots . . . has to be one of this year's finest books, let alone memoirs . . . Chung has literary chops to spare and they're on full display in descriptions of her need, pain and bravery." ―The Washington Post

"The book is an extraordinary, honest, nuanced and compassionate look at adoption, race in America and families in general. It's also such an engaging read. I stayed up way too late one night reading it because the story just pulled me in. I read it months ago, and I still think about it and quote some of the lines in this book at least weekly." ―Jasmine Guillory, Code Switch, NPR

" Revisits her coming of age with a deep melancholy, favoring clarity over sentimentality . . . Chung emotionally relays her journey to becoming a writer―her path of negotiating and asserting her identity―and to learning about her birth family's rather traumatic past. Yet her empathetic, graceful prose shines brightest when she casts her gaze elsewhere: on her adoptive parents―their warmth and their secrets, their struggle to talk about race―or on her birth sister, Cindy, who opens Chung's eyes in adulthood, while similarly trying to find herself. Through them, Chung reveals a family story of heartbreaking truth―personal in its detail, universal in its complexity." ―Entertainment Weekly

"The honesty with which Chung grapples with this kind of racial erasure is a hallmark of her stunning debut memoir, a book that confronts enormous pain with precision, clarity, and grace . . . In addition to being deeply thoughtful and moving, the book is a fiercely compelling page-turner . . . But what shines through this beautiful book is her clear-eyed compassion for all her relations, her powerful desire for connection, her bold pursuit of her own identity, and the sheer creative energy it took to build her own family tree, to 'discover and tell another kind of story.'" ―The Boston Globe

" A landmark in the literature of adoption, and will be of enduring value to people looking for advice about raising a child of a different race." ―Marion Winik, Critical Mass: The Blog of the National Book Critics Circle Board of Directors

"A tender, unsentimental memoir . . . All You Can Ever Know has the patient pacing of a mystery and the philosophical heft of a skeptic's undertaking." ―Newsday

"What gives All You Can Ever Know its power is the emotional honesty in every line, essential to the telling of a story so personal . . . All You Can Ever Know, sometimes painfully and always beautifully, explores what it means to be adopted, to be a different race from the family you grew up in, and to later create a family of your own." ―The Seattle Times

"Chung's dynamic prose tackles identity and the forces that shape it . . . What Chung painstakingly unearths about her birth family is thrilling and unsettling, and her articulation of her findings averts tropish feel-good stereotypes. Here, the open wound at the heart of this exquisite narrative heals slightly skewed, exactly as it should." ―Star Tribune (Minneapolis)

"Raw, open, forthright, Chung's personal odyssey is an intimate journey toward self-understanding and acceptance." ―The Christian Science Monitor

"This touching memoir explores issues of identity, racism, motherhood, and sisterhood with eloquence and grace. Highly recommended." ―Library Journal (starred review)

"[A] stunning memoir . . . Chung's writing is vibrant and provocative as she explores her complicated feelings about her transracial adoption (which she 'loved and hated in equal measure') and the importance of knowing where one comes from." ―Publishers Weekly (starred review)

"Highly compelling for its depiction of a woman's struggle to make peace with herself and her identity, the book offers a poignant depiction of the irreducibly complex nature of human motives and family ties. A profound, searching memoir about 'finding the courage to question what I'd always been told.'" ―Kirkus Reviews

"This book moved me to my very core. As in all her writing, Nicole Chung speaks eloquently and honestly about her own personal story, then widens her aperture to illuminate all of us. All You Can Ever Know is full of insights on race, motherhood, and family of all kinds, but what sets it apart is the compassion Chung brings to every facet of her search for identity and every person portrayed in these pages. This book should be required reading for anyone who has ever had, wanted, or found a family―which is to say, everyone." ―Celeste Ng, author of Little Fires Everywhere

"Adoption is neither an incident nor a process―it is an evergreen story of lives growing and resisting simple definitions. Chung's All You Can Ever Know takes the grammar of adoption―nouns, verbs, and direct object―and with extraordinary integrity remakes them into a narrative about what it means to be a subject. A primary document of witness, Chung writes her memoir as a transracial adoptee with honesty, wisdom, and love. Her search and what she discovers offer us life's meaning and purpose of the very highest order." ―Min Jin Lee, author of Free Food for Millionaires and Pachinko
Catapult, 9781936787975, 240pp.
Publication Date: October 2, 2018
About the Author
Nicole Chung is the author of the national bestseller All You Can Ever Know. Named a Best Book of the Year by NPR, The Washington Post, The Boston Globe, Time, Library Journal, and many other outlets, All You Can Ever Know was a finalist for the National Book Critics Circle Award, a semifinalist for the PEN Open Book Award, an Indies Choice Honor Book, and an official Junior Library Guild selection. Chung is a contributing writer and editor at The Atlantic, and her writing has also appeared in The New York Times, The New York Times Magazine, GQ, Time, The Guardian, and Vulture, among others. In 2021, she was named to the Good Morning America AAPI Inspiration List honoring those "making Asian American history right now."
or
Not Currently Available for Direct Purchase