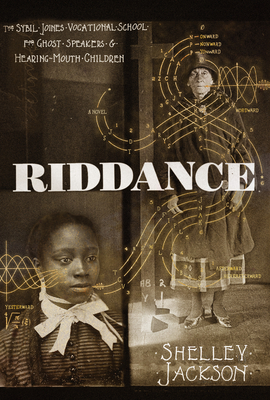 Riddance
Or: The Sybil Joines Vocational School for Ghost Speakers & Hearing-Mouth Children
Hardcover

* Individual store prices may vary.
Other Editions of This Title:
Paperback (10/15/2019)
Compact Disc (11/14/2018)
Description
Finalist for the Believer Book Award for Fiction
Named a Best Book of Fall by Vulture, New York Magazine, and more "A ravishing novel charged with the idea of the incommunicable." --The New Yorker Eleven-year-old Jane Grandison, tormented by her stutter, sits in the back seat of a car, letter in hand inviting her to live and study at the Sybil Joines Vocational School for Ghost Speakers & Hearing-Mouth Children. Founded in 1890 by Headmistress Sybil Joines, the school--at first glance--is a sanctuary for children seeking to cure their speech impediments. Inspired by her haunted and tragic childhood, the Headmistress has other ideas. Pioneering the field of necrophysics, the Headmistress harnesses the "gift" she and her students possess. Through their stutters, together they have the ability to channel ghostly voices communicating from the land of the dead, a realm the Headmistress herself visits at will. Things change for the school and the Headmistress when a student disappears, attracting attention from parents and police alike. Set in the overlapping worlds of the living and the dead, Shelley Jackson's Riddance is an illuminated novel told through theoretical writings in necrophysics, the Headmistress's dispatches from the land of the dead, and Jane's evolving life as Joines's new stenographer and central figure in the Vocational School's mysterious present, as well as its future.
Praise For Riddance: Or: The Sybil Joines Vocational School for Ghost Speakers & Hearing-Mouth Children…
Praise for Half Life: A Novel (2006)
"Shelley Jackson's sly, pyrotechnical talents are wedded to some particularly acute insights into human nature—her debut novel is audacious, smart as a paper cut, and will no doubt turn out to cure the common cold to boot. Half Life is twisty and vampy and campy, grotesque, picaresque, droll, and dazzling." —Kelly Link
"Ingenious, sensual, gleeful—as well as sinister and perverse—Shelley Jackson's first novel crackles with Nabokovian verbal fireworks and thrums with Borgesian philosophical implications. It demands of its readers only imagination, and rewards them with hilarity, terror, and marvels." —Jonathan Lethem
"Shelley Jackson's Half Life is the textual equivalent of an installation, a multivocal, polymorphous, dialogic, dystopian satire wrapped around a murder mystery wrapped around a bildungsroman. . . .Half Life is a Molotov cocktail of highly combustible intelligence. . . . In fact, the entire novel is quite complicated, a whirligig of futuristic constructs, elaborate adventures, Venn diagrams, black comedy, Boolean systems, hilarious send-ups of identity politics, lists, songs, and mad science. . . . The ambition of Half Life is truly glorious, and passage by passage Jackson is capable of fantastic runs." —Stacey D'Erasmo, The New York Times Sunday Book Review
"Half Life . . . is a shimmering, dazzling delight, filled with the kind of humor and poignancy that should endear [Jackson] to thousands of new readers who wouldn't know Kathy Acker from Kathie Lee Gifford. . . . Jackson combines the imagination of a born fabulist with the wit of a born satirist, and Half Life—for a good long stretch, at least—is a thrilling novel, by turns horrific, heartfelt, and hysterically funny." —Jeff Turrentine, The Washington Post
"Big, ambitious, deeply strange, and strangely riveting." — Newsday
"Half Life is an extraordinarily rich offering. Sexual identity, personal identity, national identity—the lonely heart of the human condition gets deliciously disturbing and daring treatment. And what a treat it is to watch Jackson deftly use the Siamese twin's dilemmas as a reflecting glass for our own solo quandaries." —Seattle Post-Intelligencer
"A remarkably poised and total work." — The Village Voice
"[A] brilliant and funny book." — Newsweek.com
"Like a queerer Don Delillo, or a sassier Pynchon. . . . This is writing that will turn you on." — LA Weekly
"Jackson's prose is stunning—sharp and smart, witty and urbane in the extreme." — The Baltimore Sun
"The author has so mastered the art of description that her characters rise from the pages soft and sticky; at times they even smell." — LA Times
"Jackson's prose is nothing short of dazzling." — Publishers Weekly
Praise for The Melancholy of Anatomy: Stories (2002)
"Jackson takes deep-rooted anxieties about the body's capacious growths, secretions, and desires and spins them into wry, absurdist fantasies. The effect of Jackson's visceral, inventive details can be gorgeous, or utterly grotesque." —Megan Harlan, The New York Times
"Witty, multilayered, and beautifully written: a startling and memorable collection." —Ali Smith
"These tales prance and pirouette along the edge of the surreal. Sometimes they dive directly in, to bring back a sense of elegance, rightness, and great wisdom." —Samuel R. Delany
"Shelley Jackson is one of the most poised and original talents of her generation . . . who, very playfully, very disturbingly, takes the body apart and puts it back together again, always in startlingly imaginative ways." —Robert Coover
"The Melancholy of Anatomy marks the debut of a voice as gutsy and original as those of Kathy Acker and Angela Carter. Shelley Jackson is a surgeon of the psyche, a body philosopher, and her understanding of how dangerous it is simply to be alive is vital, heartfelt, even profound." —Bradford Morrow
Black Balloon Publishing, 9781936787999, 512pp.
Publication Date: October 16, 2018
About the Author
Shelley Jackson was born in the Philippines, raised in Berkeley, California, and currently lives in Brooklyn, New York, with her husband, her daughter, and a three-legged dog. She received a B.A. in art from Stanford University and an M.F.A. in creative writing from Brown University. She is the author of the short story collection The Melancholy of Anatomy, the novel Half Life, the hypertext novel Patchwork Girl, several children's books, and "Skin," a story published in tattoos on the skin of more than 2,000 volunteers. She teaches in the graduate writing program at The New School.