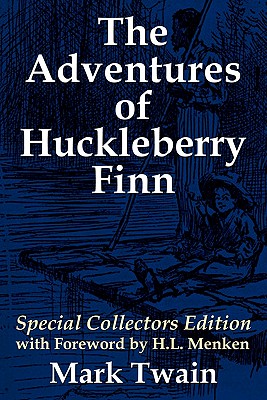 The Adventures of Huckleberry Finn
Special Collectors Edition with Forward by H.L. Menken
Paperback

* Individual store prices may vary.
Other Editions of This Title:
Paperback (3/20/2014)
Paperback (4/10/2010)
Paperback (9/1/2004)
Paperback (4/1/2013)
Paperback (8/2/2012)
Paperback (12/25/2014)
Paperback (4/17/2014)
Paperback (11/24/2011)
Paperback (12/29/2014)
Paperback (12/27/2013)
Paperback (11/16/2010)
Paperback (9/27/2014)
Paperback (3/4/2009)
Paperback (10/11/2017)
Paperback (1/6/2019)
Paperback (12/9/2015)
Paperback (2/1/2009)
Paperback (6/23/2015)
Paperback (7/23/2012)
Description
First published in England in December 1884 and in the United States in February 1885, The Adventures of Huckleberry Finn is considered as one of the Great American Novels. The work is among the first in major American literature to be written in the vernacular, characterized by local color regionalism. It is told in the first person by Huckleberry "Huck" Finn, a friend of Tom Sawyer and narrator of two other Twain novels (Tom Sawyer Abroad and Tom Sawyer, Detective). This book is noted for its colorful description of people and places along the Mississippi River. Satirizing a Southern antebellum society that had ceased to exist about twenty years before the work was published, Adventures of Huckleberry Finn is an often scathing look at entrenched attitudes, particularly racism. The work has been popular with readers since its publication and is taken as a sequel to The Adventures of Tom Sawyer. It has also been the continued object of study by serious literary critics. It was criticized upon release because of its coarse language and became even more controversial in the 20th century because of its perceived use of racial stereotypes. It has been praised by the world's most revered literary icons, including Ernest Hemingway, Tennessee Williams and F. Scott Fitzgerald. This Special Collectors Edition includes a forward by H.L. Menken. REVIEWS: "All modern American literature starts with Huckelberry Finn. No writer before and no writer since has accomplished what Twain has here." - Ernest Hemingway "I believe that 'Huckleberry Finn' is one of the great masterpieces of the world" - - H. L. Mencken "A true literary classic for the ages and a thoroughly enjoyable read" - New York Times.
Nmd Books, 9781936828029, 240pp.
Publication Date: January 15, 2011