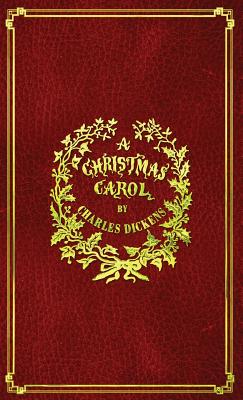 A Christmas Carol
With Original Illustrations In Full Color
Hardcover

* Individual store prices may vary.
Other Editions of This Title:
Paperback (11/26/2017)
Paperback (8/1/2017)
Paperback (10/12/2017)
Paperback (3/29/2018)
Paperback (11/17/2013)
Paperback (7/24/2016)
Paperback (5/19/2014)
Paperback (2/17/2018)
Paperback (3/16/2018)
Paperback (8/13/2017)
Paperback (8/10/2015)
Paperback (3/29/2018)
Paperback (3/29/2018)
Paperback (4/16/2018)
Paperback (8/11/2017)
Paperback (9/19/2017)
Paperback (11/25/2017)
Paperback (11/5/2015)
Description
This classic 1843 tale by Charles Dickens has all your favorite characters in their original telling: Scrooge, Tiny Tim, Bob Cratchit, and the rest. This beautiful hard cover edition includes the original illustrations, in full color, by John Leech. The cover is also very close to the original. All in all, if you want to read "A Christmas Carol" as nearly as it was when it was first written, this edition is for you.
Also available as a soft cover edition and as a facsimile (info below).
Note: John Leech's illustrations were created as engravings which had to be colored by hand, or through wood cuts. Due to the desire to create an edition that is as faithful to the original as modern typesetting technology will allow, they were not mofidied or enhanced for this edition. Readers should be aware that Leech did not produce his illustrations using computers, as this method, which does in fact allow tremendous clarity, was not invented for more than a hundred years later. Furthermore, while this edition is in full color, not all of Leech's illustrations were in color. Many of them were in black and white. Only the ones that were in full color are, in this edition, in full color.

An exact facsimile (with some of these same caveats) is available in the edition with this ISBN: 978-1-1645940-38-8
Suzeteo Enterprises, 9781936830886, 96pp.
Publication Date: September 12, 2016