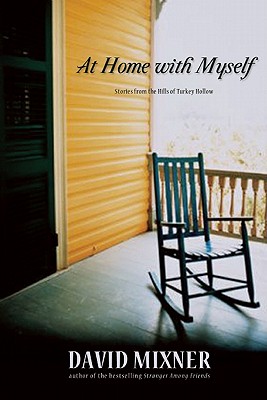 At Home with Myself (Hardcover)
Stories from the Hills of Turkey Hollow
Magnus Books, 9781936833108, 233pp.
Publication Date: November 1, 2011
* Individual store prices may vary.
Description
Bestselling author and renowned presidential campaign adviser (Bill Clinton, Dick Gephardt, Jerry Brown, Gary Hart) David Mixner returns with his first book in 10 years. In At Home with Myself, Mixner writes from and about his country home in Turkey Hollow, an upstate New York town so small and remote that it has just 10 residents, there's no cable TV, the nearest airport is a three hour drive, and deer and bear are his closest neighbors. However, these bucolic surroundings provide an ideal setting for observation and reflection.

Drawing on his considerable talents as a storyteller in the tradition on Garrison Keillor and Will Rogers, Mixner chronicles his return to nature at the age of 60. No longer willing to do the things young people do and having lost most of his closet friends to AIDS, he felt out of place in the big cities and "gay mecccas" that had been his home all his adult life. So he chose a mountainside home as a retreat from the busy world, a place of meditation on the small, daily wonders of pastoral life, including the beauty of nature and its constant evolution. Observing the arrival of spring's new blossoms or the sudden appearance of new born animals (while speaking to life's daily events) Mixner writes as Thoreau might have had he been gay.

However, At Home with Myself is also a look back on an illustrious 40 year career of protest and politics, including his involvement and leadership in the civil rights movement, the peace movement, the gay and lesbian rights movement, and high-powered presidential politics. In looking at both his--and America's--past and present, Mixner bridges today's world of openly gay elected officials and an African American US president that he and countless other activists fought to build over the past half century and the difficult but exhilarating road traveled to get here.
About the Author
Once named by Newsweek as the most powerful gay man in America, David Mixner has been a highly regarded leader in American politics and international human rights for over 40 years. He writes daily from Turkey Hollow, his mountain top home in upstate New York.

David wrote the critically acclaimed memoir Stranger Among Friends and co-wrote Brave Journeys with Dennis Bailey, which topped the Los Angeles Times bestseller list. His screenplay with Richard Burns, Dunes of Overveen, won the Outfest MTV Award for Best New Screenplay. In addition, David and Dennis Bailey co-wrote the screenplay Fire in the Soul, which is in pre-production, and a play, the historical drama Jacob's Ladder.

Additionally, David has written for Time, Los Angeles Times, The Washington Post, The Advocate and other publications.

He was an Executive Producer of the award-winning documentary House on Fire, which highlighted the HIV/AIDS epidemic in the African American community.

Most recently serving as National Chairperson for Representative Richard Gephardt's campaign for President, David has participated in over 75 campaigns, serving as campaign manager, fundraiser or strategist. Other campaigns include Clinton for President, Hart for President, McGovern for President, Bradley for Mayor, and Brown for Governor and Senate.

He has raised over $30 million for candidates and charity organizations, including well over $1 million for openly gay and lesbian candidates across the country.

David has been an unofficial advisor to elected officials and business leaders on domestic and foreign policy for decades. Today, as a prominent international public affairs/strategic planning consultant with expertise in HIV/AIDS, David is working on access, prevention and treatment projects in Russia, Ukraine and a number of African nations. In addition, he continues his work fighting HIV/AIDS here in the United States.

He has lectured at Oxford, Harvard, Stanford, Princeton and the London School of Economics. Recently, Yale University's Larry Kramer Initiative for Lesbian and Gay Studies created the David B. Mixner Collection, a catalogue of David's papers and correspondence from his work as a leading antiwar advocate during the Vietnam War to his participation in present day political campaigns.

Additionally, David is a past member of the Democratic National Committee, the Democratic Party National Commission on Delegate Selection and Party Reform, Congressional Fund, Municipal Elections Committee of Los Angeles (MECLA), the Gay and Lesbian Victory Fund (former National Co-Chair), AIDS Project Los Angeles, Ambassador to the Wilton Park International Conference, the Presidents Salt II Committee, Pro Peace and others.
Praise For At Home with Myself: Stories from the Hills of Turkey Hollow…
Praise for David Mixner

"When I met him when he was young I thought I have never met a person whose heart burned with fire for social justice so strongly. He has never forgotten the roots of his childhood.....how fortunate we are in this country at this time with all the things we have to do to have his energy, his heart,, his devotion and his passion."

President Bill Clinton

"The nation has learned a lot these years about gay and lesbian rights and in a very real sense the greatest of all our teachers has been David Mixner....."

Senator Edward Kennedy

"Your work has made an incredible difference to so many lives and inspired people not only in America but across the world."

Prime Minister Gordon Brown



Praise for At Home with Myself

This book is literally in a class by itself. No one has ever combined powerful leadership and political activism with gentle, homespun insights like David Mixner. He is truly an inspiration to mefor his courage as well as his unique wisdom and humanity."
Judith Light

From his upstate home, David Mixner talks us through his early days in the anti-war movement, the living hell of the AIDS crisis, his many arrests, the T of LGBT being forgotten, and a myriad of highs, lows, and lessons learned from a wonderful life dedicated to activism. His mesmerizing blend of wit, dignity and homespun charm makes you feel you are curled up on the porch next to him."

Alan Cumming

Few leaders embody the inclusivity, optimism and values-based politics of progressivism as fully as David Mixner. From his work as a peace and civil rights activist, to his strong feminism to his long service to the LGBT movement, to his passionate environmentalism, David has been at the heart of every major social change movement of our time. He shares stories, wisdom and insights in a wonderful, generous and enjoyable stylekind and satisfying. The observations from Turkey Hollow, like Thoreau's at Walden, are compassionate and keen. The diary-like vignettes show the ways that ordinary lives are momentous and simple joys the deepest pleasure."

Urvashi Vaid
or
Not Currently Available for Direct Purchase